Monster Cookies are one of my all-time favorites, and the number of recipes on this blog attests to that. There's just nothing bad about Monsters -- at least the cookie type.
What Are Monster Cookies?
Monsters are very large oatmeal peanut butter cookies with loads of candy including chocolate chips and M&Ms. Most Monster recipes do not call for flour and are basically gluten-free, but not all. For instance, King Arthur Flour's recipe for Monster Cookies does have a bit of flour.
Another nice thing about Monster cookies is they can be made in one bowl and do not require an electric mixer. They are one of the most relaxing cookies to bake, and if I lived in a country that had a quota on how many cookie recipes a person could own, Monster Cookies would be among my select few. They have everything!
Below is a recipe from The King Arthur Flour Cookie Companion: The Essential Cookie Cookbook (King Arthur Flour Cookbooks)
. I usually scale it down and make small batch monster cookies, but a neighbor just brought home a new baby so I made their family a large batch using every kind of baking chip and candy in the house including tiny M&Ms.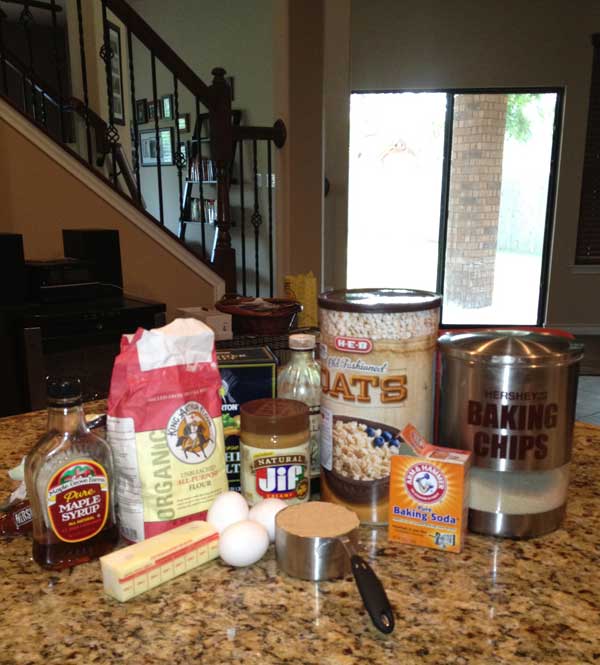 Monster Cookies Without Flour
If you'd rather try some more traditional Monsters, I recommend Ann Romney's Oatmeal Peanut Butter M&M Cookies. They were contenders in Family Circle's ever popular Presidential Cookie Bake-Off, and in the end they lost to Michelle Obama's Black & White Chocolate Chip.
Recipe
Monsters
Oatmeal peanut butter cookies with M&Ms or "Monsters"
Ingredients 
3

large

eggs

1

cup

regular or organic granulated sugar

(200 grams)

1

cup

packed light brown sugar

(220 grams)

2

teaspoons

baking soda

1

teaspoon

salt

1

teaspoon

corn syrup or maple syrup

1 ½

teaspoon

vanilla extract

1 ½

cups

peanut butter (mainstream sweetened type)**

(390 grams)

½

cup

unsalted butter, melted and cooled

(114 grams)

½

cup

all-purpose flour

(63 grams)

4 ½

cups

old-fashioned rolled oats

½

cup

dark chocolate chips

½

cup

butterscotch chips

½

cup

white chips

½

cup

mini candy coated chocolates

M&Ms
Instructions 
Preheat the oven to 350 degrees F now, or wait and do it a little later in the process. The dough will need to sit for 30 minutes. Have ready two or three greased or nonstick foil lined baking sheets.

In a large mixing bowl, stir together the eggs, both types of sugar, baking soda, salt, maple syrup and vanilla. Stir in the peanut butter and melted butter. When mixed, add flour and stir until blended. Lastly, stir in the oats, all the different chips and the candies.

Let the dough sit for 30 minutes so that the oats can absorb some moisture. At this point, you might also want to preheat the oven.

Using a quarter cup measure, scoop up dough and arrange mounds about 4 inches apart on the sheets. Press the tops down slightly to flatten somewhat (you want even mounds rather than spheres). Bake at 350 degrees F for 12 to 15 minutes or until cookies appear set and lightly browned around the edges. Let cool on the baking sheet for 5 minutes, then transfer cookies to a wire rack to cool.
Notes
The recipe is supposed to make 26 cookies, but I usually get 22-24.  For the peanut butter, it's best to use a sweetened kind like Jif or Skippy.  Using unsweetened peanut butter makes the cookies a little too chewy.