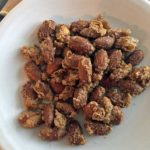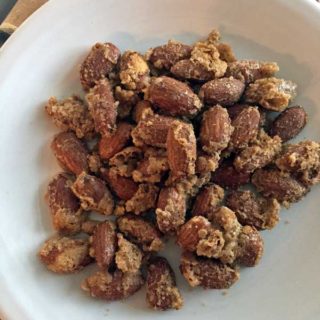 Print
Cinnamon Vanilla Almonds
These are sweet, spicy, almonds flavored with vanilla extract and almond extract. This recipe calls for a very generous amount of sugar mixture, so feel free to use less. I recommend pouring in about 3/4 of the sugar mixture, then adding the rest if you feel the almonds need more coating.
1/2

cup

sugar

1/2

cup

firmly packed dark brown sugar

1

tablespoon

cinnamon

1/2

teaspoon

salt

1/4

teaspoon

ground cayenne pepper

1

egg white

1

tablespoon

vanilla extract or vanilla bean paste

1/4

teaspoon

almond extract

3

cups

whole almonds
Preheat oven to 250 degrees F. Line a large rimmed baking sheet with parchment paper or nonstick foil.

In a medium bowl, combine sugars, cinnamon, salt and cayenne pepper; set aside.

In a large bowl, whisk egg white until frothy, then whisk in vanilla and almond extracts. Add almonds and stir to coat. Then add about 3/4 of the sugar mixture and stir well. If you feel like the almonds need more sugar mixture, stir in the rest.

Bake at 250 for 65-75 minutes, gently stirring every 15 minutes.

Let cool completely and keep in an airtight container.