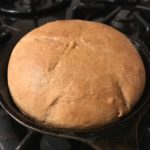 Print
Shiner Bock Beer Bread
An easy yeast bread made with beer! Use Shiner Bock or whatever beer you have around
1

teaspoon

quick rising yeast

2

cups

flour, use a mix of half all-purpose and half whole wheat OR half bread flour and half whole wheat

(250 grams)

½

teaspoon

salt

2

tablespoons

hot water

2

tablespoons

vegetable oil

2

tablespoons

honey

¾

cup

beer

flat (supposed to be flat, but I usually dump in 6 oz foamy)

More flour as needed

about 3-4 tablespoons, maybe more
At this point, dough should be very soft and sticky, so go ahead and add the remaining flour 1 tablespoon at a time until it is no longer sticky. Knead the bread for about 5 minutes using the dough hook attachment. If you're making the bread by hand, knead for a good 10 minutes. It should go from being slightly soft and sticky to smooth and elastic. Place dough in a lightly oiled bowl and cover with plastic until it doubles in size. If you used quick rising yeast and cold beer the first rise will probably take an hour.

When dough has doubled, punch it down and let it rest for 5 minutes. Divide into two equal parts and shape into round loaves. Place loaves on a parchment lined cookie sheet. Score twice on top of each loaf with a razor. Cover loosely with greased plastic wrap and let rise for about 30 minutes.

Preheat the oven to 400 degrees F. Bake the loaves at 400 for the first 10 minutes, then lower heat and bake at 350 for about 25 to 30 more minutes or until loaves sound hollow.