When Austin got its first Salt Grass Steak House, we'd drive almost an hour to get there, then wait another half hour in the packed lobby listening to cowboy music and chatter from the bar. These days I can barely deal with waiting 30 minutes, but back then it seemed worth it. Maybe the wait made the food taste better? I don't know, but by the time we got to the table, The Salt Grass Shiner Bock Beer Bread and fresh honey butter tasted really good. For the past 10 years I've been meaning to try the Copy Kat version of Shiner Bock Bread, and I finally got around to it last night.
The original Copy Kat Shiner Bock Bread makes 4 loaves, but I halved the recipe to make only two and used quick rising yeast which meant changing the whole technique. From start to finish it took about an hour and 45 minutes, and the two loaves were perfect. Todd liked the flavor of the homemade bread better what he remembered from the restaurant, but I think it's because he's grown more accustomed to whole wheat. I liked it too, but a lot of that had to do with the pride of being the one who made it.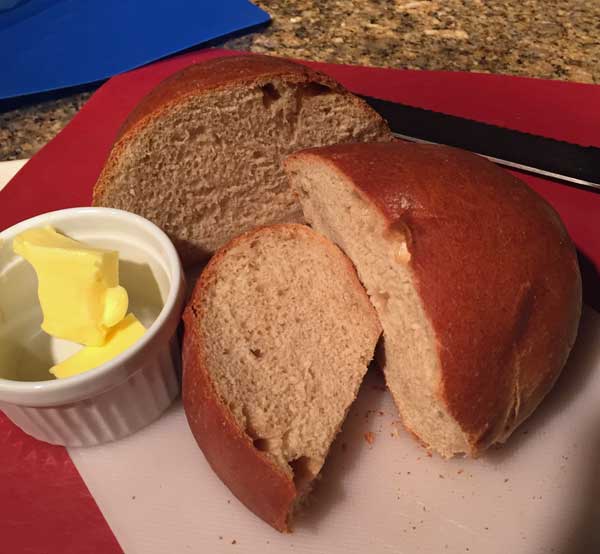 Here's the original Copy Kat version of Shiner Bock Bread from Copy Kat Recipes, should you wish to make it with regular yeast.
Here's how I made it using the quick rising yeast.
UPDATE: I've made this bread multiple times since this post and have used different brands and types of beer with success. Use whatever beer you like drinking.
Shiner Bock Beer Bread
1 teaspoon quick rising yeast
2 cups (9 oz) all-purpose and wheat flour (use half white, half whole wheat to weigh 9 oz)
1/4 to 1/2 teaspoon salt
2 tablespoons hot water
2 tablespoons vegetable oil
2 tablespoons honey
3/4 cup Shiner, flat**
More flour as needed (about 3 tablespoons)
In the bowl of a stand mixer, mix together the yeast, flour and salt. Add the hot water, oil, and honey and give the mixture a quick stir, then add the beer and stir until mixed. At this point, dough should be very soft and sticky, so go ahead and add the remaining flour. If it's not soft and sticky but seems rather dry, do not add the extra flour. Knead the bread for about 5 minutes using the dough hook attachment. If you're making the bread by hand, knead for a good 10 minutes. It should go from being slightly soft and sticky to smooth and elastic. Place dough in a lightly oiled bowl and cover with plastic until it doubles in size (30 minutes if using quick rising yeast)
When dough has doubled, punch it down and let it rest for 5 minutes. Divide into two equal parts and shape into round loaves. Place loaves on a parchment lined cookie sheet. Score twice on top of each loaf with a knife two inches apart and about 2 1/2 inches long (I forgot to do this). Cover loosely with plastic wrap until the loaves have doubled in size (30 minutes if using quick rising yeast).
Bake loaves at 350 degrees F. for 30-35 minutes.  Makes 2 loaves
**I didn't have time to let the beer sit around and get flat and since it was still too fizzy to measure by volume, I put the mixing bowl on a scale, set the tare to zero and poured out the beer until the scale measured 6 oz.