These are sweet, salty, and on the crunchy side.  Definitely one of my favorite peanut butter cookies.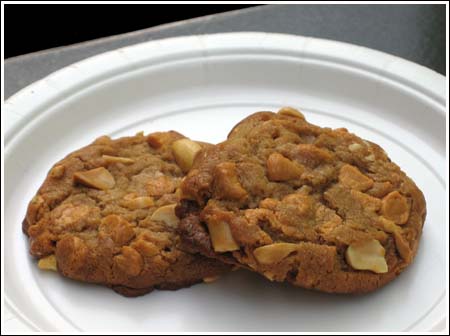 Peanut Butterscotch Cookies
1 1/4 cups (160 grams) all purpose flour
1/2 tsp (2 ml) baking soda
1/8 tsp (.5 ml) salt
1 stick butter (114 grams), cool  room temp, unsalted
1/2 cup plus 2 tablespoons (160 grams) creamy peanut butter
1/3 cup (65 grams) granulated sugar
3/4 cup (150 grams) brown sugar, light or dark
1 large egg
1/2 tablespoon (8 ml) maple syrup or corn syrup
1 teaspoon (5 ml) vanilla extract
3/4 cup butterscotch or peanut butter morsels (divided use)
1/3 cup salted peanuts (handful)
Stir together flour, baking soda and salt; set aside.
In a large bowl, cream the butter, peanut butter and both sugars. Add the egg, maple syrup and vanilla and beat until well blended. Add flour and stir until incorporated, then stir in half of the butterscotch morsels.
Chill dough for about an hour.
Preheat oven to 350 degrees F (180 C). and have ready two parchment lined cookie sheets.
Chop remaining the butterscotch morsels and peanuts, then mix the chopped butterscotch morsels and chopped peanuts together in a little bowl.
Shape dough into 1 1/2 inch balls and roll in butterscotch/nut mixture. Place on parchment or non-stick foil lined cookie sheets and and bake for 12 minutes. Let cool on rack for 1 minute, then transfer to a rack to cool.
Makes about 18 cookies
Note:  This recipe is adapted from a recipe by Nancy Baggett.  Nancy rolls her cookies in peanuts and chocolate chunks, so if you can't find butterscotch morsels you can use chocolate chunks.
Related posts: