We're having dark, drizzly jacket weather today. Everyone I've talked to seems happy, but there's this underlying sense that it could very well be 85 and sunny tomorrow, so we're all just enjoying it while we can.
Rachel and I spent the morning driving up north to do Girl Scout business. We had a good time exploring the Girl Scout Store (some of the badges are exactly the same as I remember) but the drive used up most of our morning. Today's recipe needed to be quick, so I decided to go with a batch of muffins.
I'm trying to turn Fuzz on to muffins. I don't know why, because they're not particularly healthy in my opinion and to her credit, she'd rather eat fruit or nuts. But selfishly, I get some satisfaction out of making hot fresh muffins for my kid. It's a bonus when she actually eats them, and I'm only half kidding about that. Fuzz likes muffins, but she's discriminating. She does not tolerate fruit chunks of any kind and anything too grainy or oaty or with shreds of carrot gets a veto as well. Bran, surprisingly, is okay so long as the muffins are soft and sweet. Her favorite at the moment, are plain muffins with brown sugar and cinnamon. This recipe, which will make your house smell like Fall, is easy and delicious. I sprinkled cinnamon chips on top I adapted this recipe from an old one on a box of Fiber One, so if you've got some Fiber cereal around, you might try it with that. Fuzz likes both versions.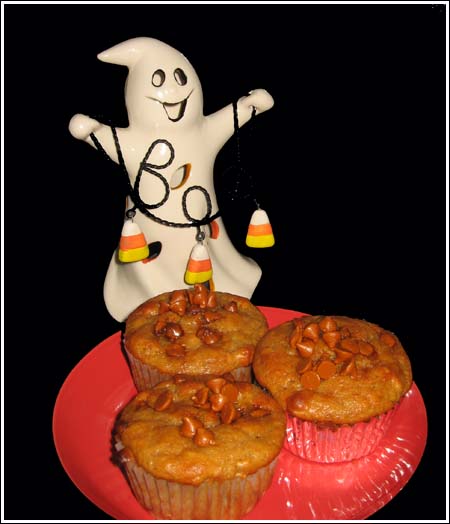 One Bowl Cheerios Muffins
1 large egg
1 1/2 cups low-fat yogurt (not non-fat)
1/3 cup vegetable oil
2 teaspoons vanilla
2/3 cup light brown sugar, lightly packed
1/2 teaspoon cinnamon
1/2 teaspoon salt
1 1/4 teaspoons baking soda
1 1/2 cups all purpose flour
1 1/2 cups Cheerios
Optional: cinnamon chips – sprinkle on top or add ¼ cup to batter (more or less)
Preheat oven to 400 degrees F. Line 12 muffin cups with paper liners.
In a mixing bowl, whisk together egg, yogurt, oil and vanilla. Add brown sugar and whisk until smooth. Whisk in cinnamon, salt and baking soda. Put down the whisk and with a mixing spoon or heavy duty scraper, gently stir in the flour, stirring only until flour is moist – batter will be lumpy. Stir in the Cheerios (or other cereal). For sweeter muffins, add about 1/4 cup of cinnamon chips to batter.
Spoon or carefully pour the batter into the muffin cups, dividing evenly among all 12. Sprinkle the tops with cinnamon chips.
Divide batter evenly among muffin cups and bake for 18-20 minutes or until muffins appear set. Sprinkle tops with a few more cinnamon chips while hot.
Set on wire rack to cool slightly. Remove from muffin pan.
Makes 12
Related posts: