Wednesday is actually my super busy doing housewife stuff day, so today's recipe is getting posted a bit late.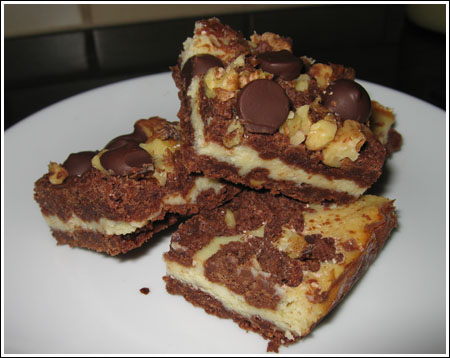 A friend sent it yesterday. It didn't sound super exciting, but I was assured that it was very good. Plus when I looked at the recipe and the technique, I realized it was a bit different than your usual cream cheese filled brownies. The base has a chocolate shortbread texture and the top is crumbly and light. Plus, the cream cheese filling is made with cream cheese and condensed milk, which is convenient. Most importantly, these are very tasty and they hold together quite well after being chilled.
The recipe is adapted from one by Penzey's.
Cocoa Cheesecake Streusel Bars
1 3/4 c flour
1 1/2 c powdered sugar
1/2 c cocoa powder — natural, not dutched
1 c butter — cold (if using unsalted, add 1/4 tsp salt to recipe)
8 ozs cream cheese — softened
14 ozs sweetened condensed milk
1 egg
2 tsps vanilla
1/2 c chopped nuts, optional
Some chocolate chips (about 1/2 cup)
Preheat oven to 350.  Line a 13×9 inch pan with non-stick foil or parchment.
Combine flour, sugar, and cocoa in a large bowl and then cut in the butter until crumbly and rather dry. I did this step in the food processor. Magazine says you can do it with hands.
Reserve 2 cups of the mixture for the topping. Press the remaining into the bottom of prepared pan. Bake crust for 15 minutes. Beat cream cheese til fluffy and then gradually beat in condensed milk until smooth. Add egg and vanilla. Pour cream cheese mixture over crust. If using nuts, combine with the 2 cups of reserved chocolate mixture. Sprinkle over cream cheese mixture. Bake 25 minutes until bubbly. Sprinkle chocolate chips over top as soon as you remove from oven. Chill thoroughly.  Lift from pan by grasping foil or parchment, then cut into squares.
Makes about 32 squares
Note: You can halve the recipe and make it in an 8 inch square pan. Halve everything, use two tablespoons of egg and cut about 2 minutes of each cook-time listed.
Related posts: