I finally made the award winning Mrs. Fields cookie recipe. My guests (sister and mother-in-law) gave the cookies thumbs up and took some home – not too many though, because I only made about twenty.
Interestingly, when I scaled the recipe down it was almost identical to the scaled down King Arthur Monster cookie. But I like these cookies better because they have a solid butterscotch/pecan theme and don't have any flour – which makes them more monster-y since real monster cookies don't have flour.
I used quick cooking (not instant – those are different) oats rather than "old fashioned". Oat cookies made with quick cooking oats taste less health foodish, which is good if you're serving them to children. Not that my child would care, because she's inherited her father's sick peanut butter aversion gene. Argh.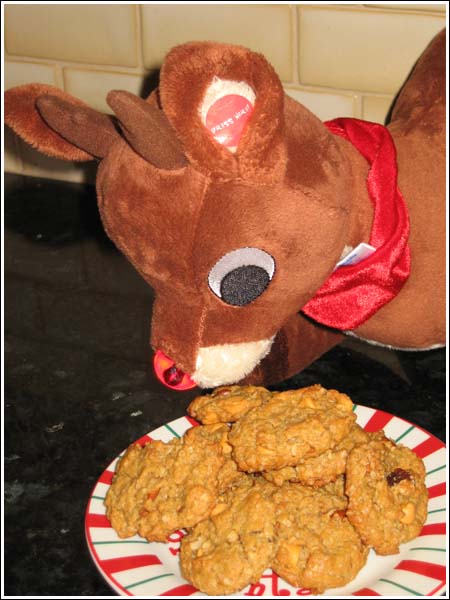 Oatmeal Peanut Butter Scotchies (Scaled Down)
2 tablespoon unsalted butter, plus 2 teaspoons, room temp
1/2 cup peanut butter (Jif, Skippy, Peter Pan – kind with sugar)
1/3 cup white sugar
1/3 cup brown sugar
1/8 teaspoon salt
1 tsp. vanilla extract,
1 large egg
2/3 tsp baking soda (strange measure, but you can eyeball it)
1 1/2 cups quick cooking (not instant!) oats
2/3 cup of butterscotch chips
1/4 cup chopped, toasted pecans
Preheat oven to 350 degrees F.
Cream the butter, peanut butter and both sugars. Add salt, vanilla, egg and baking soda and beat for about 30 seconds. Stir in oats, then add butterscotch chips and nuts.
Drop by rounded teaspoonfuls or smallish tablespoons on a greased cookie sheet or parchment lined cookie sheet. Bake 350 degrees for 10-12 minutes (brown on bottom and some browning on top). Cool on cookie sheet 5 minutes before removing to cooling rack.
Makes about 20 cookies
Related posts: