After missing an important holiday, National Butterscotch Brownie day, I looked through Cookie Madness and found very few recipes for butterscotch brownies. There were plenty of blondies, but only two really emphasized the butterscotch – the Whole Foods recipe and the one from Cooking Light. So I decided to round up a few new butterscotch brownie recipes and test them side by side. Yesterday I baked one from Jenn's Baking Chamber and today I baked one based on a recipe from Richard Sax's Classic Home Desserts. Stephanie from Joy of Baking also posted the Sax recipe and you can see her version here, but we both ended up making adjustments.
Earlier today I listed the differences in technique and ingredients, but I got rambly and erased it all. So I'll just point out the major differences between this one and the previous. This recipe is beaten with a mixer (as opposed to being mixed by hand) and calls for proportionately more butter than the other. The bars are richer and less cakey and packed with nuts and chunks, which I really liked. Sax used white chocolate, but I went with butterscotch chips in light of National Butterscotch Brownie Day.
And like Joy of Baking, I also raised the salt and lowered the baking soda.
My blondies are dark because I still haven't bought new light brown sugar and had to scrape the bottom of my brown sugar jar which had a mixture of dark and light. These were denser and less cakey than the others and definitely moister. They were rich with butter, but the pecans took the buttery edge off so they weren't overly so and I wouldn't call them gooey or overly sweeet. In fact, I really think people will like these ….perhaps more than the others since a lot of people like blondies that are super moist. I actually like these equally as much as the others and will give them a 4 as well.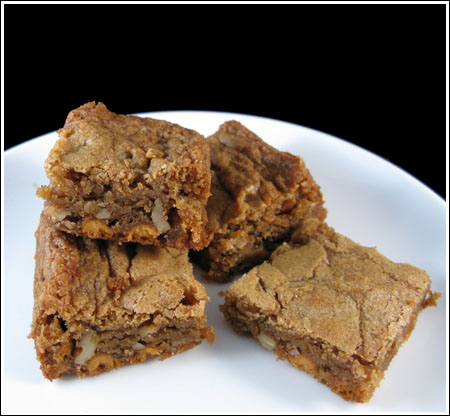 Butterscotch Blondies – Adapted from Richard Sax Classic home Desserts
3/4 cup plus 2 tablespoons (100 grams) sifted all-purpose flour**
1/4 teaspoon salt
1/4 teaspoon baking soda
1 large egg
3/4 cup plus 2 T. packed (160 grams) light brown sugar
1 teaspoon pure vanilla extract
1/2 cup (114 grams) unsalted butter, melted and cooled
3/4 cup (75 grams) pecan halves, toasted at 350 for 10 minutes and chopped
1/3 cup butterscotch morsels or chopped white chocolate
Preheat oven to 325 degrees F and line an 8 inch metal baking pan with foil. Spray bottom of pan (not sides) with cooking spray.
Re-sift the flour with the salt, and baking soda onto a sheet of foil or waxed paper.
Beat the egg and brown sugar in a medium bowl using high speed of electric mixer until light and frothy (2 minutes). Beat in the vanilla extract and then the melted butter. Add the flour and stir by hand until it is mostly blended in, then stir in the pecans butterscotch chips and stir until fully mixed.
Pour the batter into the pan, smooth the top, and bake on center rack for 27-30 minutes or until a toothpick inserted in the center comes out with a few moist crumbs. Remove from oven and place on a wire rack. Cool completely before cutting into squares.
**Sax calls for ¾ cups plus 2 tablespoons "sifted" flour. When flour is sifted before measuring, it weights only about 115 grams per cup, so the weight was only 100 grams.
Related posts: