One of my favorite ways to make chewy brownies is to add marshmallows to the batter. As the brownies bake, the marshmallows melt into the brownies creating little pockets of chewiness. Two good examples are Melted Marshmallow Browniess and Capetown Brownies. And now there's a blondie variation! The recipe is from a 1982 Southern Living Annual where it goes by the name Chewy Marshmallow Brownies. Since these are really more like blondies, I'm calling them Chewy Marshmallow Blondies.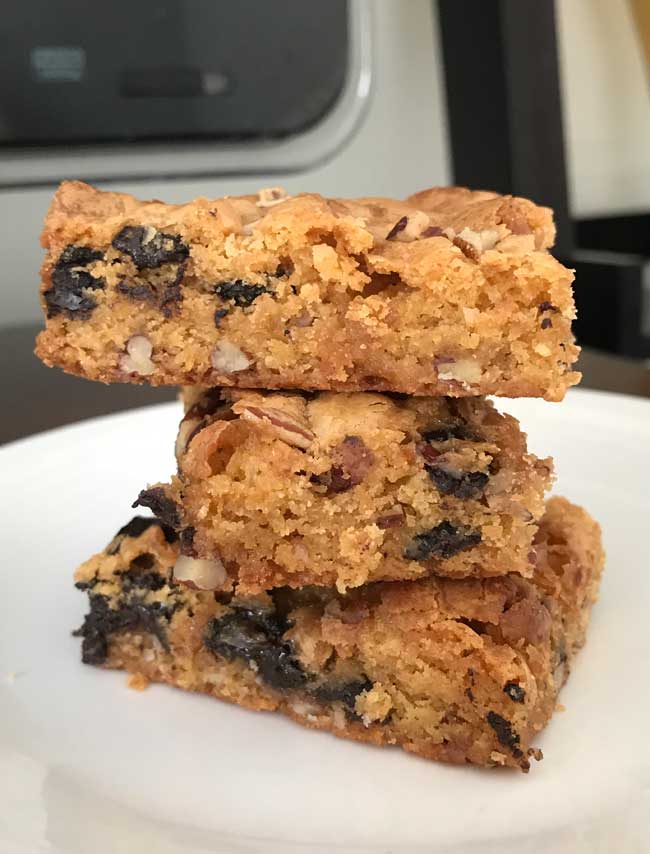 The recipe is quick and simple, plus it's interesting in that it calls for ½ cup of butterscotch morsels that are melted with the butter and added to the batter. The melted morsels and marshmallows give the bars an almost candy-like texture. Here's a photo of them before being baked.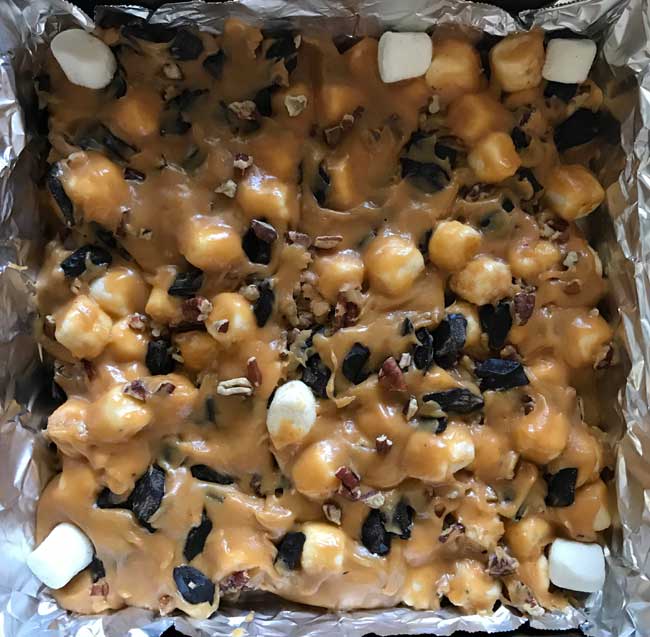 And here's one after.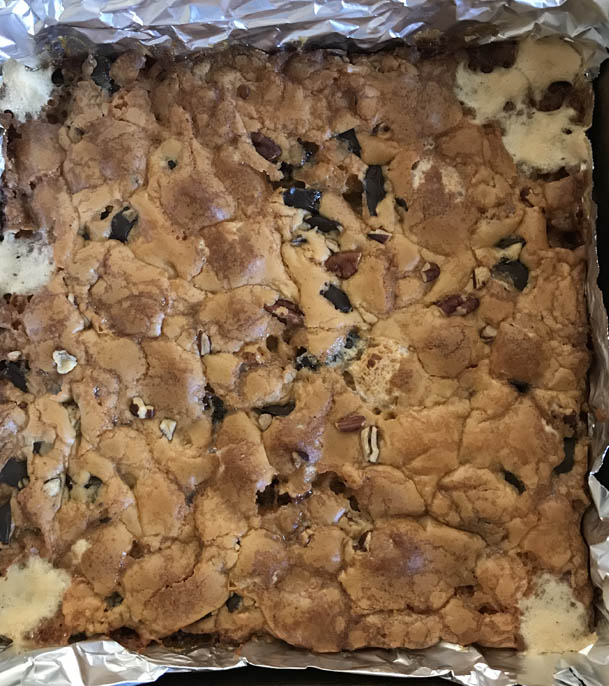 More Chewy Melted Marshmallow Madness
After making Chewy Marshmallow Blondies, I tried to find similar versions on-line.  Allrecipes.com has Disappearing Marshmallow Brownies, but their version is doubled and and baked in a 9x13 inch pan.  I recommend sticking with the smaller batch or using 2 8 inch square pans because you get more chewy edges.  I also recommend using butterscotch chips rather than substitutions because I tried a substitution (Hershey's elusive salted caramel flavored chips) and the blondies were pale and not as flavorful. I will also mention that I'm not even a huge fan of butterscotch chips, but they just worked so nicely here.
Nordy Bars?
I recently learned of a recipe called Nordy Bars, which are blondies sold at Nordstrom's. When doubled, this recipe seems to be the same as Nordy Bars. So I guess you could say these are are small batch Nordy Bars.
Recipe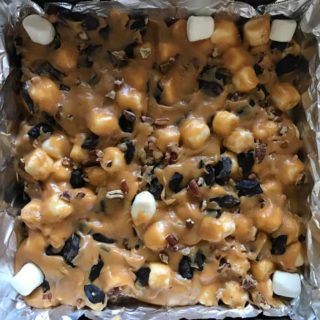 Chewy Marshmallow Blondies
Chewy Marshmallow Blondies are blondies made with melted butterscotch chips, marshmallows and pecans.
Ingredients 
½

cup

butterscotch morsels

(84 grams)

4

tablespoons

unsalted butter

(56 grams)

¾

cup

all-purpose flour

(100 grams)

⅓

cup

firmly packed light brown sugar

(83 grams)

1

egg

slightly beaten

½

teaspoon

vanilla extract

1

teaspoon

baking powder

½

teaspoon

salt

but only ¼ if you used salted butter

About 1 cup semisweet chocolate morsels

1

cup

generous miniature marshmallows

½

cup

chopped

toasted pecans
Instructions 
Line an 8 inch square pan with nonstick foil (or just grease it) and preheat the oven to 350 degrees F. You can use glass or metal.

Put the butter in a microwave safe bowl and heat for 30 seconds. Add the morsels and stir to coat with butter. Heat for another 30 seconds and stir. Repeat until morsels are melted. Let cool.

In a mixing bowl, stir together the brown sugar, egg and vanilla. Mix in the melted and cooled butterscotch mixture, then add the baking powder, salt and flour. Stir until smooth, then stir in the chocolate chips, marshmallows and pecans.

Bake at 350 for 20 to 25 minutes. Let cool, then cut into large squares. If you have the time, I recommend cooling completely and chilling before slicing.
Notes
These brownies may sound super sweet, and but they're just the right level of sweetness if you add the nuts. The nuts offset the sugar, so if you don't like nuts you might want to go with a different blondie recipe. Simply lowering the sugar will change the texture of the brownie and may make it a little cake-y.