I like some brands of store-bought granola, but even the best ones come with a problem. The clumps rise to the top and the broken granola sinks to the bottom. If we ate our granola with milk this wouldn't be a problem, but we eat it dry and broken up granola is not really finger food.
This C&H recipe caught my eye because I like carrot bread and it seemed like a good way to use up the last of the granola. Unfortunately, I spaced out and forgot the milk. Whoops. It still tasted good, though. Realy good. Mine was just a little crumblier than it should have been.
I re-wrote the directions because the original's "dump-it-all-in" approach seemed a little sketchy…which is not to say it would have been fine. I just like mixing the dry ingredients first to make sure the baking powder is evenly distributed.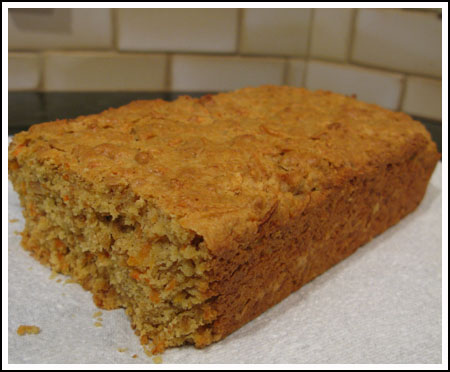 Granola Carrot Bread
1 1/2 cups whole grain flour or whole wheat flour (6.7 oz)**
1 tablespoon baking powder
1/2 teaspoon salt
1 1/2 cups grated carrots
1/2 cup vegetable oil
1/2 cup golden brown sugar
2 large eggs
1/2 cup milk or buttermilk
1 1/2 cups granola
Preheat oven to 350 degrees F. Spray a 9×5 inch loaf pan with flour-added cooking spray.
Mix the flour, baking powder and salt together and set aside.
In a large mixing bowl, mix together the carrots, oil, sugar, eggs, milk and granola.
Add the flour mixture to the granola mixture and stir gently until mixed. Pour mixture into greased pan and bake for 55-60 minutes. Cool in pan for 10 minutes. Turn from pan.
**I used Eagle Mills White Whole Grain
Related posts: