Granola Carrot Bread solve the problem of what to do with crushed granola left at the bottom of the box. Or maybe you have some homemade granola that you'd like to use. Whatever the case, this is a fun way to use some loose granola. If you have very chunky granola, you'll need to break if up.
The was originally a C&H recipe, but they've probably moved it so if you want to find it on their site you may need to search. Luckily I did make an adapted version which is what you'll find here.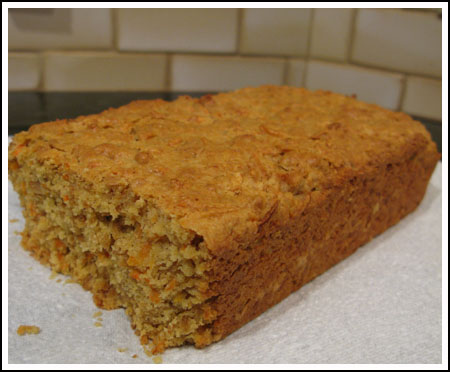 Also, I really need to update the photo because I used a 9x5 inch loaf pan and feel like the loaf is to stubby. Carrot Granola Bread might look more if baked in a smaller, narrower, pan. Then again, the stubby version was pretty tasty!
Granola Carrot Bread
1 ½ cups whole grain flour or whole wheat flour (6.7 oz)**
1 tablespoon baking powder
½ teaspoon salt
1 ½ cups grated carrots
½ cup vegetable oil
½ cup golden brown sugar
2 large eggs
½ cup milk or buttermilk
1 ½ cups granola
Preheat oven to 350 degrees F. Spray a loaf pan with cooking spray. I originally used a 9x5 inch loaf pan, but this one would be better in an 8x4 inch or 8 ½ by 4 ½ inch loaf pan.
Mix the flour, baking powder and salt together and set aside.
In a large mixing bowl, mix together the carrots, oil, sugar, eggs, milk and granola.
Add the flour mixture to the granola mixture and stir gently until mixed. Pour mixture into greased pan and bake for 55-60 minutes. Cool in pan for 10 minutes. Turn from pan.
**I used Eagle Mills White Whole Grain