Happy belated Fourth of July! I hope everyone had a good holiday. We met our new neighbors, bought a washer and dryer (ended up with the new Samsung) and put chicken wire around the bottom of the fence so Lizzie can't dig under. Moving day is around the corner, but right now the house is getting painted in what I hope turn out to be lovely shades of kilim beige, latte and hopsack. I can't wait to see the results!
With so much going on I haven't been very creative in the kitchen, but I've still been craving sweets and was happy to find this recipe for oatmeal bars in Family Circle. I made the bars as directed, but out of habit I added an "uncalled for" egg. I didn't realize my error until I went back to the original recipe to read reviews. It turns out a lot of people thought the recipe would be better with an egg. Were they right? Well, I wouldn't know. The version with the egg was great, but I think these would be good without it too. The most important thing is not to overcook, measure the flour accurately and to let the bars cool completely. I thought they had an even better texture after being chilled and brought back to room temparture.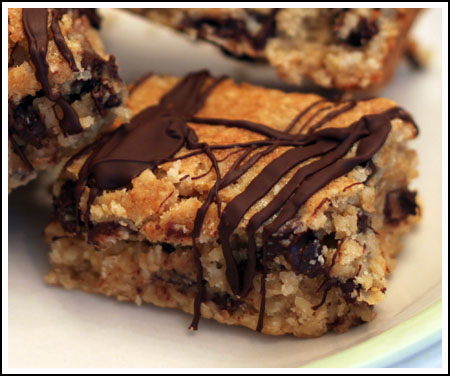 Oatmeal Chocolate Chip Bars
1 cup all-purpose flour (4.5 oz) — fluff up before measuring
1-1/4 teaspoons baking powder
1/4 teaspoon salt
1 cup light brown sugar, packed
12 tablespoons unsalted butter, softened
1 teaspoon vanilla extract
1 large egg (optional?)
1/4 cup milk
2 cups quick oats – old fashioned would probably taste too grainy
1-1/4 cups semisweet or extra dark chocolate chips (divided use)
Preheat oven to 375 degrees F. Line an 8 inch metal pan with foil and spray with cooking spray.
Mix together the flour, baking powder and salt; set aside.
Beat the butter and sugar with an electric mixer until fluffy. Beat in vanilla. Reduce speed to low and beat in the egg (if using) and milk. By hand or with lowest speed of mixer, stir in the flour mixture. Stir in oats and 1 cup of the chocolate chips.
Spread batter into prepared baking pan. Bake for 28-32 minutes or until wooden pick inserted in center comes out clean. Cool completely on a wire rack. Melt remaining 1/4 cup chocolate chips in microwave or in a double boiler and drizzle over bars. Chill to set chocolate. Lift from pan and slice into bars.
Makes about 16
Related posts: