I'm always happy to find a new issue of Food & Wine in the mailbox, and while the "healthy and "green" issues are not nearly as fun as the holiday issues, they usually have at least one recipe I'll clip and use over and over. In this case, it's the Chocolate Pecan Cookie Bars which I made this morning and which are excellent! While they're not exactly diet food, the recipe uses slightly less butter, a little vegetable oil to cut the saturated fat, a ton of toasted pecans and dark chocolate, and whole wheat pastry flour to for added whole grain. So the bars aren't low in calories, but I felt better about eating them than I did all that red velvet cake.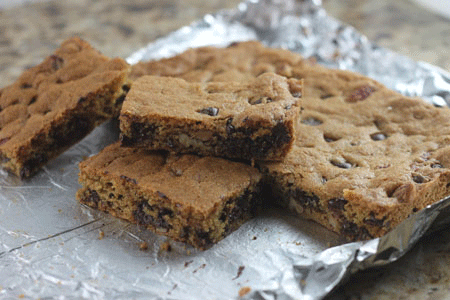 Mine looked a little thicker than the ones in the picture, but it might have had something to do with the fact I cut the recipe in half and used an 8 inch pan. I still thought they were perfect.
Full Batch Recipe for Chocolate Chip Pecan Cookie Bars in Food & Wine
Half Batch Chocolate Chip Pecan Cookie Bars
1/2 cup pecans, toasted in a 350 degree oven for about 8 minutes and chopped
2 tablespoons unsalted butter, softened
1 tablespoons canola oil (I used Spectrum walnut oil which isn't very strong)
3 tablespoons granulated sugar
3 tablespoons light brown sugar
2 tablespoons lightly beaten egg
1/2 teaspoon pure vanilla extract
3/4 cups whole wheat pastry flour (3.2 oz)
1/4 teaspoon baking soda
1/4 teaspoon kosher salt (mine was generous)
1/2 cup semisweet chocolate chips (it's possible I used more)
Preheat the oven to 350° and line an 8 inch metal pan with foil. Spray the foil with cooking spray.
Beat the butter and oil with the granulated sugar and brown sugar until creamy — I did this with a hand-held mixer. Beat in the egg and vanilla until smooth.
In a small bowl, mix the flour with the baking soda and salt; stir the dry ingredients into the mixture. Add the chocolate chips and pecans and stir just until incorporated. Transfer the dough to the prepared baking pan and press into an even layer.
Bake for about 17-20 minutes or until lightly browned and nearly set in the center. Let cool completely, then lift bars from pan, set on a cookie sheet and score into 16 bars (or 12).
Related posts: