You know that feeling you get when you're in a public place and you spot a celebrity?  At first your brain is like "OMG!  It's the woman from Modern Family" or "No way!  It's that guitarist I haven't seen since 1996 and here he is at the H.E.B.!"  and then you try not to stare and act goofy, but you really want to say hi.
That's what happened when I saw these.  I almost fainted.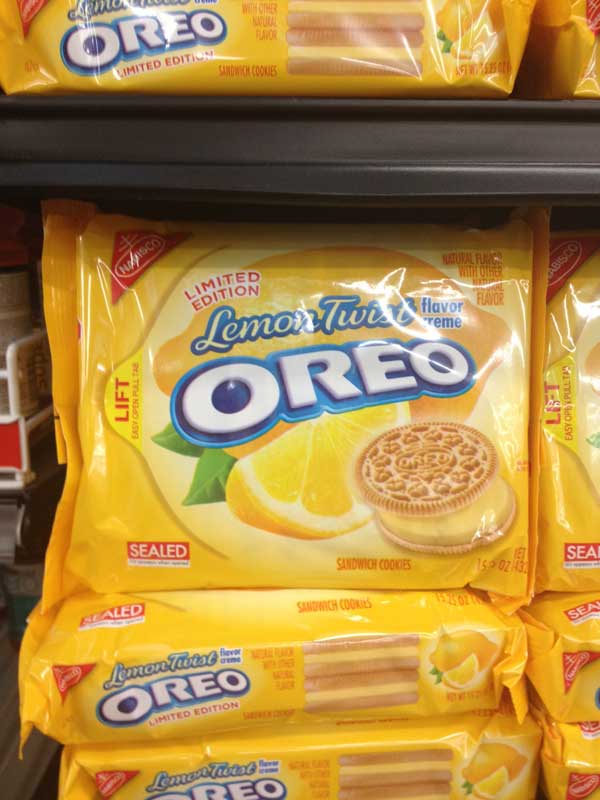 Sometimes when I spot a celebrity, there's this urge to pull strangers over and say "Hey, look who's here shopping in the store with us."  But I don't, and I didn't with the Oreos either, though I wanted to tap people on the shoulder and say "Check it out!  Lemon Oreos.   Nabisco hasn't made these since the 1920s, and here they are RIGHT IN FRONT OF YOU at the H.E.B.  Get some!"   But as it happened, I just threw them in the basket.
When I arrived home with the celebrity Oreos, the family was pretty excited and wanted to open them up right away. I told them (okay, really it was only Fuzz) to cool off and that we'd try the cookies after lunch. We ate really fast.
Time for cookies! Fuzz said the Oreos reminded her of lemon Girl Scout cookies and that she was really surprised these were just a limited edition. My initial thought upon tasting was that they weren't very lemony.  Then after a few more bites decided they were just the right level of lemony.  And then I started brainstorming ways to use them.
–Cut them up and put them in pound cake
–Use them as a base for Mini Oreo Cheesecakes
–Crush them and use them as a pie crust
–Pulverize them and make lemon flavored Oreo truffles
–Dip them in white chocolate (I just bought some Merckens coating and am anxious to try it)
I wanted to do all those things, but I started with the pound cake.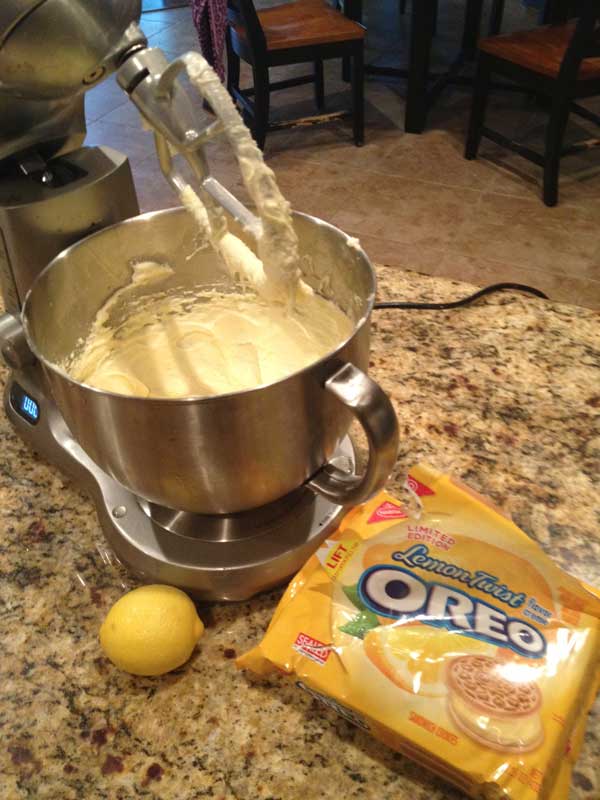 Things didn't go as planned.  The chunks of Oreos melted into the cake making pockets of brown lemon gunk.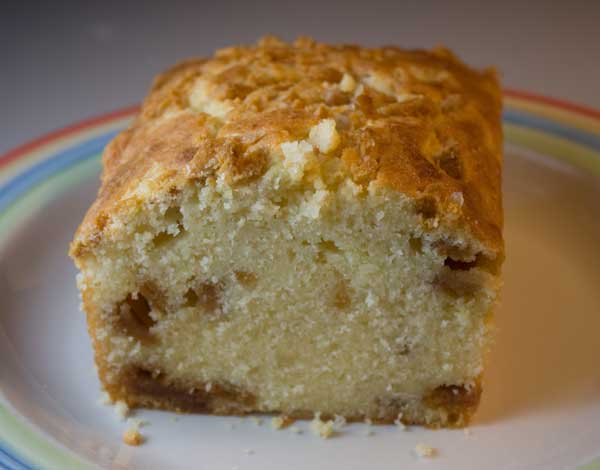 However, the layer of Oreos that I'd scattered over the top worked splendidly.  They made the already-crusty crust a little bit crunchy and added some lemon flavor.  Plus, they were pretty.
For the base, I started with a Cook's Country recipe, but halved it, changed the pan size, added lemon zest and altered the vanilla.  As mentioned, the Oreos I mixed into the batter didn't work out so well, but the ones I sprinkled over the top made the cake special, so this recipe reflects that.
This recipe makes one 8 1/2 by 4 1/2 inch loaf.  If you have a better lemon pound cake recipe, use that.  Just cover the top with crushed Oreos before baking.
Cold Oven Lemon Oreo Pound Cake
Cold oven pound cake made with lemon zest and lemon flavored sandwich cookies
Ingredients
2 packed teaspoons fresh lemon zest
1 1/4 cups granulated sugar
10 tablespoons unsalted butter, softened
1/2 teaspoon vanilla extract
Scant 1/2 teaspoon of salt
3 large eggs, at room temperature
1/4 teaspoon baking powder
1 1/2 cups (6 ounces) cake flour
1/2 cup whole milk, at room temperature
1/2 cup chopped lemon flavored Oreos
Instructions
Do not preheat the oven since this is a *cold* oven pound cake. Just make sure the rack is in the lower third of the oven.
Grease and flour an 8 1/2 by 4 1/2 inch metal loaf pan or line it with nonstick foil.
In the bowl of a stand mixer, combine the lemon zest and sugar. Using the back of a spoon, mash the lemon around until the sugar is fragrant.
Add the softened butter a few chunks at a time. With the paddle attached, mix on medium low. Increase speed slightly and beat until creamy, scraping bowl often. Beat in the vanilla and salt. One by one, beat in the eggs, beating for 30 seconds after each egg and another full minute after all eggs are added..
Beat in the baking powder.
By hand, stir in the flour and milk, starting and ending with flour.
Pour batter into pan and sprinkle the cookie chunks over the top.
Set pan in the cold oven. Turn heat to 325 degrees F. and bake for 70 minutes or until the cake appears set and a pick inserted in the center comes out clean. Let the cake cool completely, then turn from pan.
Notes
A lot of standard loaf pans are a little over 9x5, so if you use a 9x5 loaf pan, your cake will be shorter and might bake a little faster. If using a 9x5 inch loaf pan, check the cake at 60 minutes. I used a 1 pound loaf pan that measured about 8 1/2 by 4 1/2 inches. I
Related posts: