I don't usually crave orange flavored things, but sometime last year I was thinking about the Terry's Chocolate Oranges a friend used to give us around the holidays, and that led to Orange Chocolate Chip Pound Cake. I kept this post in my drafts file, but kept testing more cakes using orange and other flavors of cake mix. They all worked! So here's the post I meant to share quite a while back.
Jump to Recipe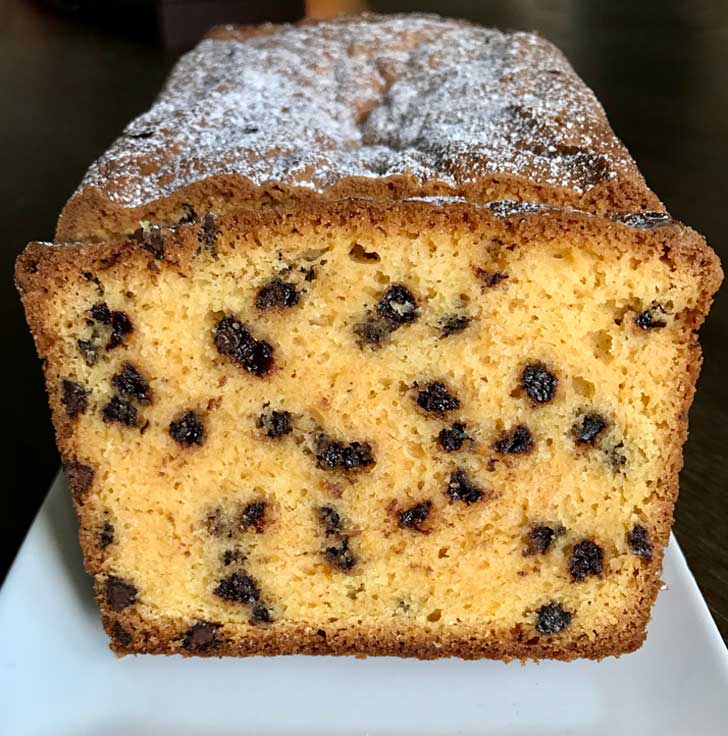 Duncan Hines Perfectly Moist Orange Supreme
Before making the cake mix versions, I made a couple of scratch pound cakes and added orange zest. They were good, but not the flavor I'd been craving. So for the next round I decided to go with a doctored orange cake mix and tracked down a box of Duncan Hines Perfectly Moist Orange Supreme. It's not the easiest one to find. The first store didn't have it, but both Wegman's and Publix did. It's sold on Amazon too.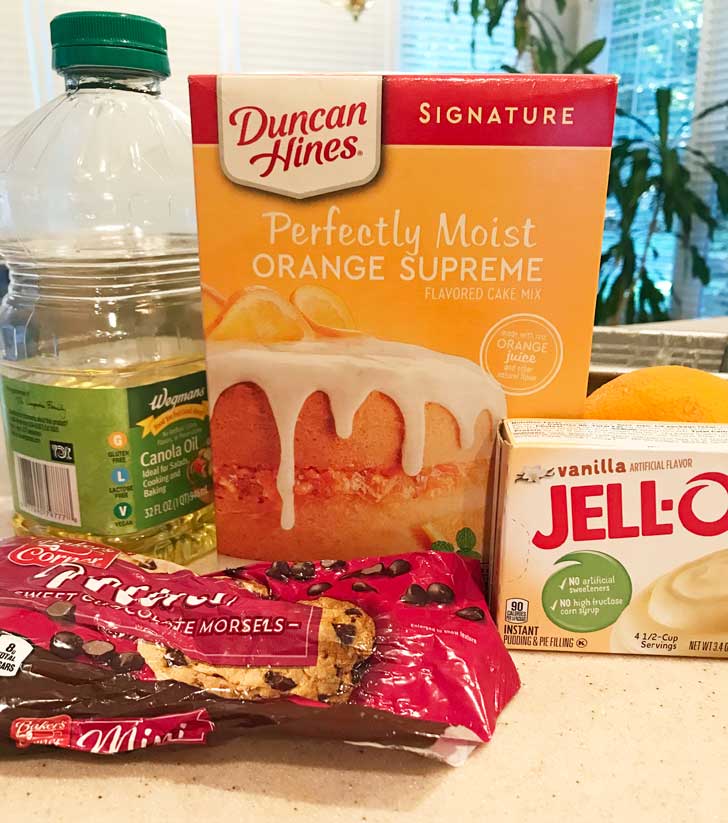 Additions to the Cake Mix
Duncan Hines has an orange cake recipe on their website, but I wanted to do my own thing and used my great grandma's old Duncan Hines Lemon Pound Cake, substituted orange cake mix and added chocolate chips. The flavor was spot-on and I could have stopped there because it was very tasty. However, I'd been imagining a crusty pound cake that could be cut into thin slivers. So I took the doctored cake mix idea to the next level and incorporated cream cheese, butter, flour and sugar. While not as quick as the first version, this cake was exactly what I was looking for. It had a beautiful chewy brown crust and had just the right amount (a lot!) of orange flavor.
Makes 2 Loaf Pan Pound Cakes
A few things to note. The recipe actually makes 2 loaf cakes or one tube pan. I only needed one loaf cake so I halved the recipe by weighing out half of everything and used one 8 ½ x 4 ½ inch loaf pan. I'm guessing most people will want to use the full box of cake mix and so forth, so I'm posting the recipe for two cakes baked in loaf pans. You could also try it in a tube pan, though I haven't yet tested that.
Betty Crocker Butter Cake Mix Version
After having success with the orange flavored cake, I felt I had to try a vanilla or butter cake version. And rather than go with the Duncan Hines again, I used Betty Crocker (which happened to be on sale). The Betty Crocker Butter cake mix worked too! So if you don't want an orange cake, you can use butter flavor or probably any other flavor. I'll be making this again and again with different cake and pudding combos for sure!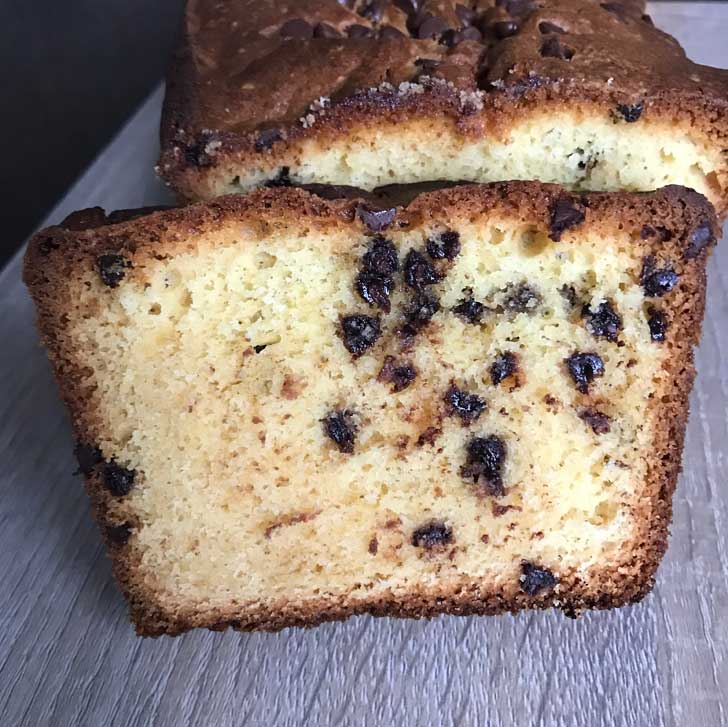 Updated Lemon Cake Mix Pound Cake
I made this cake again using Duncan Hines Lemon Supreme, instant lemon pudding, 1 ½ teaspoon of lemon zest and 2 tablespoons poppy seeds. It was good! For the lemon version I halved all the ingredients and baked in an 8 ½ by 4 ½ inch loaf pan. There was a slight dip in the middle of the loaf, but it still looked pretty and tasted good.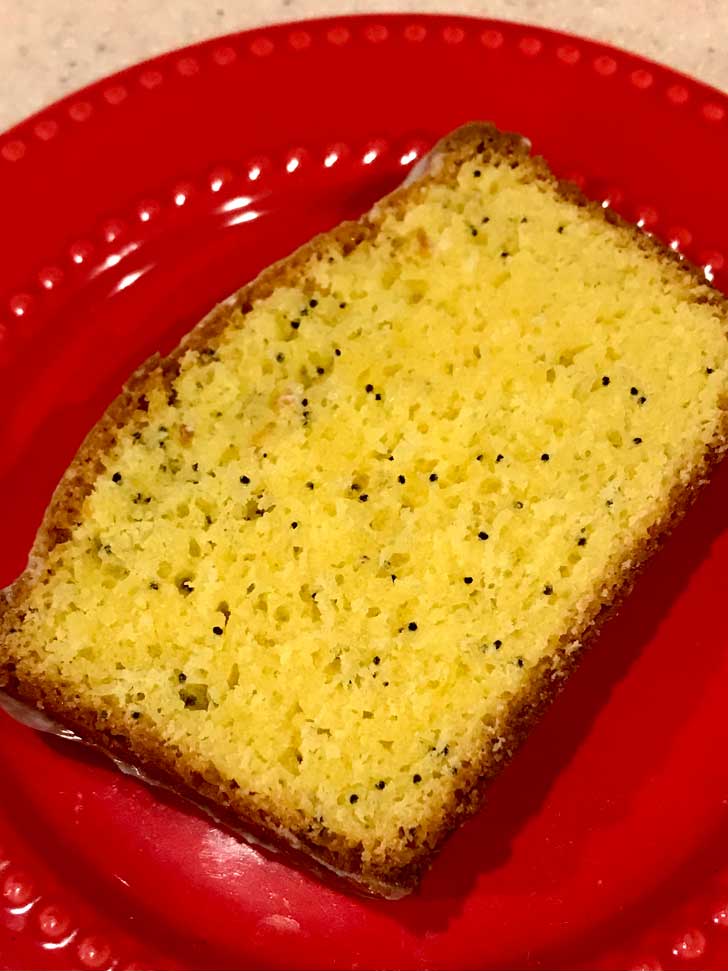 Dolly Parton Coconut Cake Mix Pound Cake
I made this cake yet again with the new Dolly Parton themed coconut flavored cake mix by Duncan Hines. I was out of cream cheese and used sour cream. It worked! For the coconut cake, I used the coconut cake flavored cake mix and vanilla flavored instant pudding.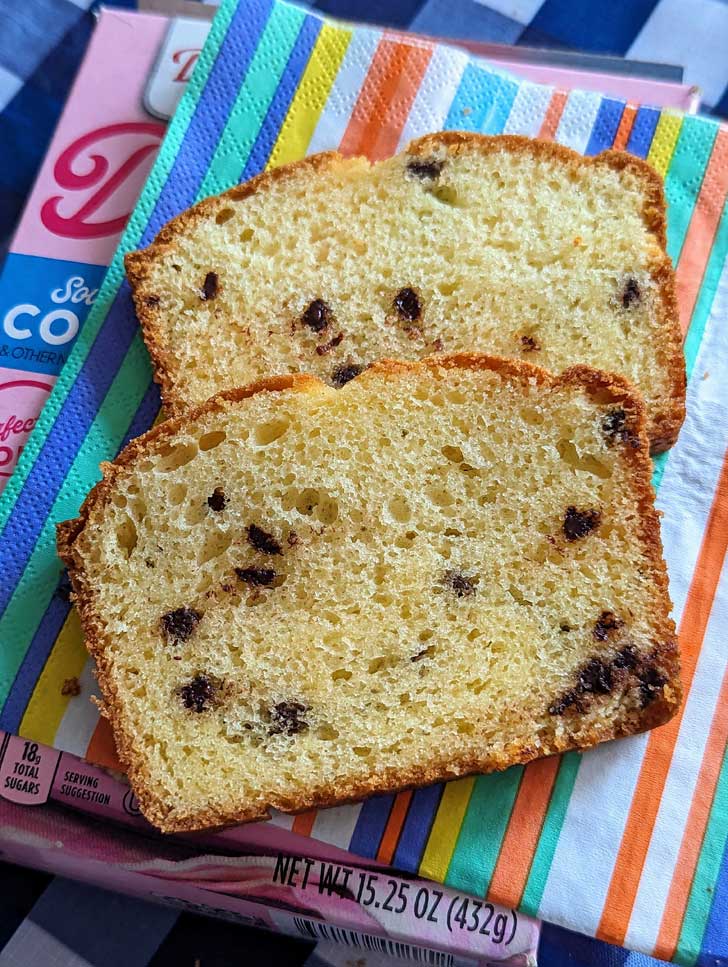 More Recipes Involving Cake Mix and Citrus
Recipe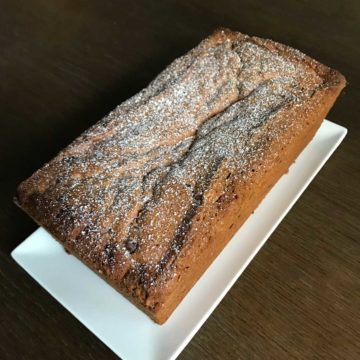 Orange Supreme Cake Mix Pound Cake
An orange flavored chocolate chip version of cake mix pound cake. This makes two large (8 ½ by 4 ½ inch) loaf cakes. You could also make 1 large tube cake or possibly a Bundt.
Ingredients 
1

stick

unsalted or salted butter**, softened

(114 grams)

3

oz

cream cheese, softened or full fat sour cream

(84 grams)

1

cup

granulated sugar

(200 grams)

¼

teaspoon

salt if you used unsalted butter

6

large

eggs

(300 grams)

15.25 oz

package

Duncan Hines Signature Orange Supreme Cake Mix

(462 grams)

1

3.4 oz

package instant vanilla pudding and pie filling

⅓

cup

vegetable oil

1

teaspoon

orange zest

1

cup

all-purpose flour (plus 1 extra T)

(128 grams) plus the T.

½

cup

water

1

cup

miniature chocolate chips
Instructions 
Preheat oven to 350°F. Grease and flour two 8 ½ by 4 ½ inch loaf pans.

In the bowl of a stand mixer, beat the butter, cream cheese, sugar and salt (if using) until creamy. Add four of the eggs, one at a time, beating 20-30 seconds between each egg.

Add the cake mix, pudding mix, orange zest and oil and beat just until blended, then add the remaining 2 eggs. Beat on medium speed for 1 ½ to 2 minutes with an electric mixer. Add the 1 cup of flour (hold back the T for chip tossing) and beat just until it is blended, then add the water last, beating just until blended and you have a smooth orange batter.

Toss the chocolate chips with the 1 tablespoon of flour and stir into the mixture.

Pour batter into pans, dividing evenly. You should have a little over and inch for the batter to climb. Set the pans on a rimmed baking sheet and bake at 350 degrees F. for about 60 minutes or until the cakes appear dark brown and internal temperature is around 205

Let the cakes cool on a wire rack for about a half hour, then turn from pans and let cool completely. When completely cool, wrap tightly and freeze or dust with confectioners' sugar and serve.
Notes
To make a vanilla or butter flavored cake, use butter or vanilla flavored cake mix, omit the orange zest and add in about a teaspoon of vanilla extract.  To make a lemon version, used lemon cake mix, lemon instant pudding mix and 2 teaspoons of lemon zest.  To make a lemon icing, mix 2 teaspoons of very soft butter with a cup of confectioners sugar.  Add lemon juice gradually, stirring, until you have a pourable white glaze.