I first saw this recipe on Epicurious which said it was from the Dec. 2003 Bon Appetit.   These are very rich. They're kind of crumbly and shortbread-like and packed with hazelnut flavor. Don't try substituting Nutella. Nutella is good, but for this recipe you need pure ground hazelnuts (hazelnut butter). You can buy it at Whole Foods or you can make your own by grinding up hazelnuts and a bit of vegetable oil in the processor.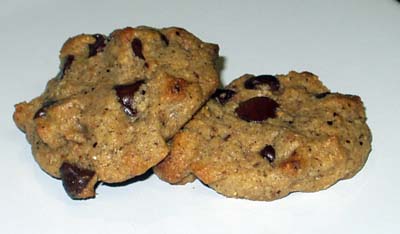 Hazelnut Butter Chocolate Chip Cookies
1 ½ cups all purpose flour
¾ teaspoon baking soda
½ teaspoon baking powder
½ teaspoon salt
½ cup butter
1 cup creamy unsalted hazelnut butter
½ cup sugar
½ cup light brown sugar, packed
1 large egg
1 teaspoon vanilla extract
12 ounces regular or mini semi-sweet chocolate chips
Stir together first four ingredients. Using electric mixer, beat butter, hazelnut butter, and both sugars in large bowl until light and fluffy. Beat in egg and vanilla. By hand, stir in flour mixture. Stir in chocolate chips. Cover and refrigerate at least 2 hours.
Preheat oven to 350°F. Line 2 baking sheets with parchment paper. Using 1 level tablespoon for each cookie, roll dough between palms of hands into 1-inch balls. Arrange 1 inch apart on prepared sheets. Bake 1 sheet at a time until cookies are golden brown, about 12 minutes. Let cool on sheets on racks 5 minutes. Transfer cookies to racks and cool.
Makes about 4 dozen