This recipe for Malted Chocolate Chip Cookies is a really old one, which I believe comes from Crisco. It's a little different in that along with the malted milk powder it calls for shortening instead of butter, plus 2 tablespoons of chocolate syrup. Also, it's made with 100% light brown sugar and no granulated, so as you can guess it's a shade darker than most chocolate chip cookies. All these things come together for a cookie that's slightly thicker than most, has crunchy edges and an interesting flavor.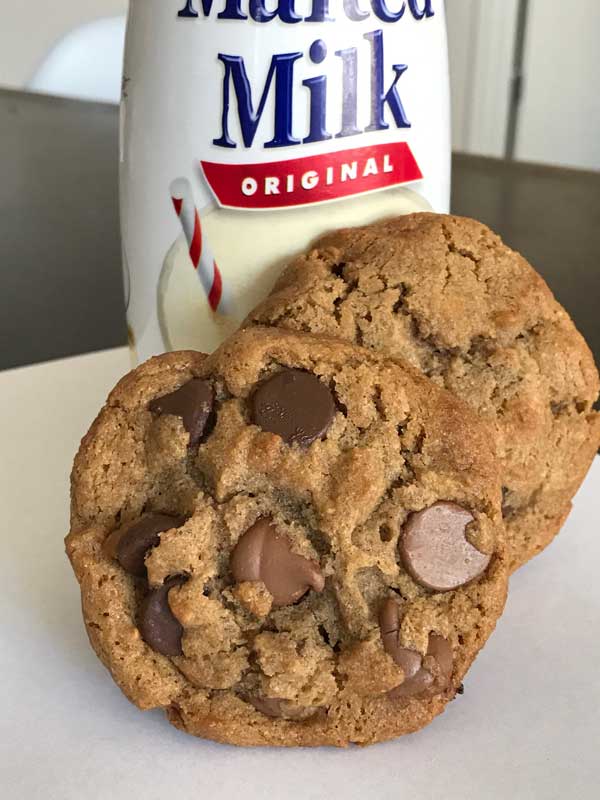 Malted Milk Powder Brands
For the malted milk powder, I use Carnation brand which comes in a red and white canister.  A brand called Horlick's would also work. For the fat, this recipe works best with the Crisco. Sorry, but butter makes the cookies a little too flat. The good news is that if you want to make a butter based malt cookie, there's a different recipe. These Malt Chocolate Chip Cookies are good too, but different. What's special about the Malted Chocolate Chip Cookies with the Crisco and the chocolate syrup (I never said they were healthy!) is that they are darker, thicker and slightly crumblier. They also have a little more malt flavor.
Malted Chocolate Chip Cookies
1 cup (192 grams) butter flavored shortening
1 ¼ cups (250 grams) light brown sugar, packed
½ cup (70 grams) malted milk powder
2 tablespoons chocolate syrup
1 tablespoon vanilla
1 large egg
2 cups (270 grams) all-purpose flour
1 teaspoon baking soda
½ teaspoon salt
1 ½ cups semisweet chocolate cihps
1 cup milk chocolate chips
Preheat oven to 375 degrees F.
In a mixing bowl, beat together shortening, brown sugar, malted milk powder, chocolate syrup, and vanilla; beat for 2 minutes. Mix in egg.
In a small bowl mix flour, baking soda, and salt. Gradually add to creamed mixture.
Stir in chocolate chips
Shape into 1 ½ to 2 inch balls; place about 3 inches apart on ungreased baking sheets.
Bake for 10 to 14 minutes or until golden brown.
Cool for 2 minutes on pan before removing to wire racks to cool completely.
Yield: 2 dozen