This recipe for Hazelnut Lime Pepper Cookies was sent by a fellow cookie-loving baker named Therese. Therese credits both The Chicago Sun Times and a cookbook author named Gracie Howaniac, who writes for a Wisconsin paper. The Hazelnut Council also has a version of this recipe, which has a full cup more flour and is much thicker, but this makes a good thin and chewy cookie.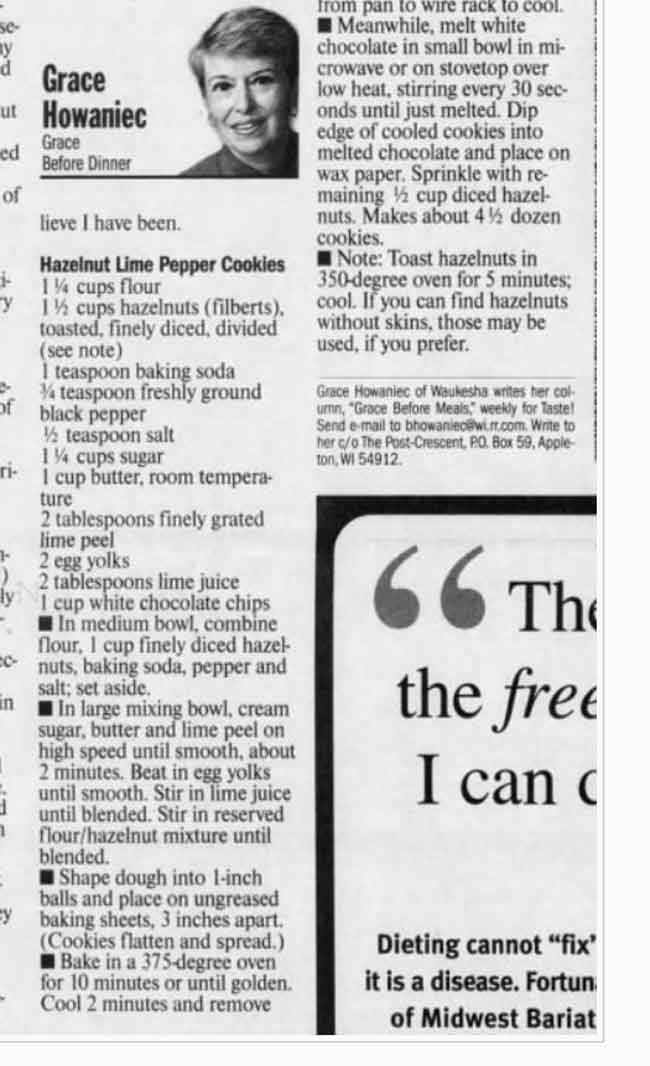 The cookies, when made with 1 ¼ cups flour, are incredibly thin. When I pulled them out of the oven, I thought maybe I'd left something out. That happens quite often when cooking with a 4 year old. Still, I wanted the cookies to work, so I let them sit on the sheet for a few minutes before transferring them to a cooling rack. Luckily, after a little cooling, they held their shape.
When the cookies were cool, I broke off a piece. The taste was incredible. The lime flavor was distinct but not overpowering and the pepper gave the cookies a nice little after-bite. All of the flavors just worked really well together.
The recipe says to melt the white chocolate and dip the cookies in the white chocolate. My cookies are a little different because I just dumped the chips in with the dough. I wasn't planning on doing that, I just sort of did. Whoops.
Anyway. Here's a picture of my cookies. The flavor combo was so good that I'll definitely try the other version as well.
Hazelnut Lime Pepper Cookies
1 ¼ cups all-purpose flour (180 grams)
1 ½ cups hazelnuts, toasted, finely diced, divided (I used the packaged, pre-diced ones)
1 tsp baking soda
¾ tsp freshly ground black pepper
½ tsp salt
1 ¼ cups sugar
1 cup butter, room temperature (salted)
2 tablespoons finely grated lime peel
2 egg yolks
2 Tablespoons lime juice
1 cup white chocolate chips
In a medium bowl, combine flour, 1 cup finely diced hazelnuts, baking soda, pepper and salt; set aside.
In a large mixing bowl, cream sugar, butter and lime peel on high speed until smooth, about 2 minutes. Beat in egg yolks until smooth. Stir in lime juice until blended. Stir in reserved flour/hazelnut mixture until well blended.
Shape dough into 1-inch balls and place on ungreased baking sheets, 3 inches apart (cookies flatten and spread).
Bake in a 375-degree oven for 10 minutes or until golden. Cool 2 minutes and remove from pan to wire rack to cool.
Meanwhile, melt white chocolate in small bowl in microwave or on stovetop over low heat, stirring every 30 seconds until just melted. Dip edges of cooled cookies into white chocolate and place on wax paper. (or just drizzle white chocolate all over the entire cookie!) Sprinkle with remaining diced hazelnuts.
Makes about 4 ½ dozen cookies.