One thing I had to deal with this weekend was a rotten "over-ripe" banana. Since I only had one, I cut this recipe in half. Again, I used the Hershey's Chocolate Macadamia Baking Pieces which worked wonderfully with the banana flavor. These are cakey, but have chewy and slightly crisp edges. After they sit around for a while, they'll probably be soft all the way through. I'm not usually big on banana cookies, but I liked these quite a bit.
Here's a picture of the baking pieces. I like these because the macadamia nuts are crunchy and taste like they've been toasted.
Here's what the cookies looked like. I'm giving these to the nice family who loaned me their mini refrigerator. I still don't have a real refrigerator yet.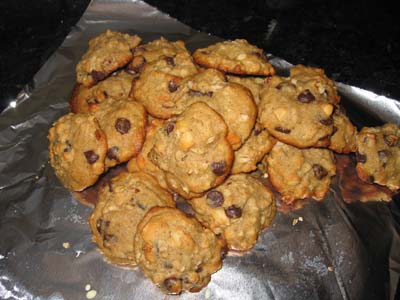 Banana Chocolate Chip Macadamia Cookies
1 ½ cups all purpose flour
½ teaspoon baking soda
½ teaspoon salt
2 over-ripe bananas
12 tablespoons butter, softened
1 cup brown sugar, packed
1 egg
1 teaspoon vanilla
1 ¾ cups oats
1 bag of Hershey Premier Chocolate-Macadamia Baking Bits
Whisk together flour, soda and salt. Set aside.
Cut up bananas and place in a large mixing bowl. Mash bananas slightly, then beat with high speed of electric mixer until smooth. Add softened butter and beat butter and bananas together until creamy. Beat in brown sugar, egg and vanilla.
By hand, stir in flour mixture and oats. Stir in baking bits.
Chill dough for a few hours or cover and chill overnight.
Preheat oven to 375 degrees. Drop by rounded teaspoonfuls onto ungreased or Silpat lined cookie sheets. Bake for 12-15 minutes or until brown around edges.
Makes about 45 cookies