These are called "Chocolate Drop Quickies". They are cousins to the old "Boiled Cookies" or "Amish Funeral Cookies". Unlike the others, these cookies do not contain peanut butter. This version of the recipe was sent to me by Sandra, who works for NASA. Below is a picture I took of the cookies and Sandra's version of the recipe. For another version of boiled cookies, click the link and check out my friend Jaay's blog. You'll have to scroll down a bit for her recipe, which is the traditional peanut butter version. Jaay's version was given to her by her grandmother. This is one very old recipe.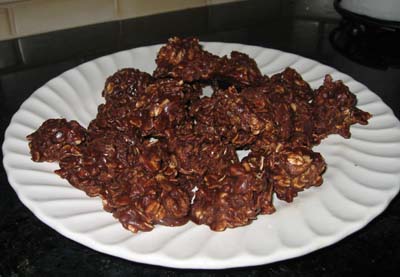 A few notes. If you are vegan, you can make these with soy milk. For the nuts, it's best to toast them and cool them. And finally, this recipe can be easily halved. I made a half batch.
Chocolate Drop Quickies
2 cups sugar
1/2 cup butter
1/2 cup cocoa
1/2 cup milk
3 cups quick cooking oats
1/2 cup chopped nuts
1 tsp vanilla
Mix sugar, butter, cocoa and milk in saucepan. Bring to boil quickly. Reduce heat to medium and boil 3-4 mins or until a little dropped into cold water forms a soft ball (234 degrees). Remove from heat; stir in oats, nuts and vanilla. Drop by teaspoonfuls onto waxed paper; let stand until hardened. Store in refrigerator, if desired. Makes about 3 doz. cookies.