This is an old recipe called "Chocolate Drop Quickies". They are cousins to the (also) old "Boiled Cookies" or "Amish Funeral Cookies". I can't decide which recipe has the worst name, but all three make me laugh which means they're actually great names. Anyhow, this recipe was given to me by someone named Sandra who worked for NASA -- something I felt was important to note at the time.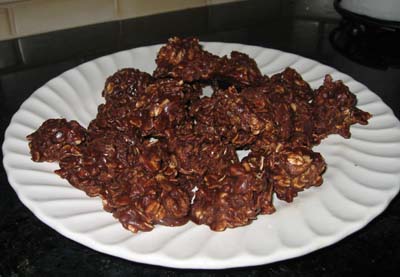 Above is a picture I took of the cookies on an old white plate I broke long ago.
A few notes. If you are vegan, you can make these with soy milk. For the nuts, it's best to toast them and cool them. And finally, this recipe can be easily halved. I made a half batch.
Next, I'm going to post 200 pictures showing each step in the process of making these cookies. Just kidding. I'm not even going to put this one in recipe card format because it's so very old and dated.
Chocolate Drop Quickies
2 cups sugar
8 tablespoons butter (salted, because there's no salt in the recipe)
½ cup cocoa
½ cup milk
3 cups quick cooking oats
½ cup chopped nuts
1 tsp vanilla
Mix sugar, butter, cocoa and milk in saucepan. Bring to boil quickly. Reduce heat to medium and boil 3-4 mins or until a little dropped into cold water forms a soft ball (234 degrees). Remove from heat; stir in oats, nuts and vanilla. Drop by teaspoonfuls onto waxed paper; let stand until hardened. Store in refrigerator, if desired. Makes about 3 doz. cookies.