Wow, this is an old post from 13 years ago where I put pecan pie in chocolate chip cookies.  I'm leaving it here for posterity.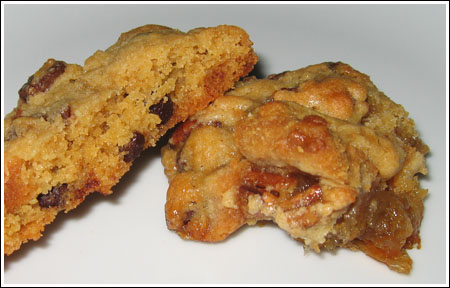 Today I took advantage of a bag of Betty Crocker chocolate chip cookie mix I had lying around. I'd bought it a few months ago for a contest, but it never got used. This time, I could play with it without the pressure of having to come up with something super original and decided to make chocolate chip cookies with big chunks of leftover pecan pie. I'd put pecan pie in chocolate chip cookies, but never in cookie mix chocolate chip cookies. Here's a picture of the ingredients. Egg and butter are in the bowl already. Note, the extra chips were not used.
Here's half of the batter with the pecan pie slice smashed into it. I saved the rest of the batter for something else. I only used half because I only had 1 piece of pie and wanted each cookie to have lots of pie gook in it.
And here are the Pecan Pie Chocolate Chunk Cookies. They're pretty good for something so quick.
Pecan Pie Chocolate Chip Cookies
8 tablespoons butter, softened
1 egg
1 bag of Betty Crocker Chocolate Chip Cookie Mix
2 slices of frozen pecan pie, cut up
Mix butter and egg in bowl. Stir in cookie mix. Mash in pecan pie. Drop by rounded tablespoonfuls onto a parchment lined cookie sheet and bake for 12-15 minutes in a preheated 375 degree oven. Makes 18-24 cookies, depending on how much "rounding" you do with your tablespoon.
UPDATE:
Since a few people have expressed interest in the "not-so-quick" homemade version, here is that recipe. The homemade ones are better than the mix-based, but they take more time.
Pecan Pie Chocolate Chip Cookies
2 slices frozen or prepared pecan pie
½ cup butter, melted and cooled
½ cup sugar
½ cup dark brown sugar
1 large egg
1 teaspoon vanilla extract
1 ½ cups flour
½ cup oats
½ teaspoon baking powder
½ teaspoon baking soda
½ teaspoon salt
⅛ teaspoon cinnamon
4 ounces dark chocolate, cut into chunks
Cut frozen or pecan pie into bite size pieces and place in freezer until frozen or, if using already frozen, until ready to use.
In a medium bowl, stir together melted butter, sugar and dark brown sugar. Add egg and vanilla. Stir until smooth.
Mix together the flour, oats, baking powder, baking soda, cinnamon and
salt. Stir into sugar mixture. Fold in frozen pecan pie pieces and chocolate chunks.
Using a quarter cup measure, scoop and shape dough into balls and place on a dish. Chill shaped dough balls for at least 1 hour or until ready to bake.
Preheat oven to 375 degrees F. Place thoroughly chilled dough balls about 3 inches apart on an ungreased non-stick or parchment lined cookie sheet.
Bake cookies for 15 minutes, covering loosely with sheet of foil after
first 10 minutes to prevent over browning. Cool on cookie sheet for 3 minutes, then remove.
Makes 12 big cookies