A hidden gem! The shortening is key for the great texture, but you can substitute butter for a slightly less flaky, crispy, cookie.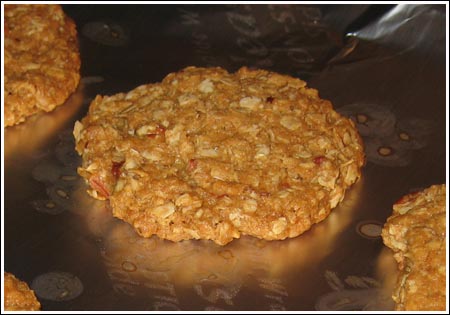 Crunchy, Hearty Oatmeal Cookies
A crunchy yet light cookie. Shortening is the key to the interesting texture.
Ingredients
Crunchy, Hearty Oatmeal Cookies
1 cup (4.5 ounces) all purpose flour
1 teaspoon baking soda
1 teaspoon cinnamon
1/2 teaspoon salt
1/2 cup shortening (trans fat free)
1/4 cup butter, melted and slightly browned if desired
1 cup brown sugar, packed (I used part dark brown, part light brown)
1/2 cup granulated sugar
2 tablespoons honey
2 tablespoon molasses, corn syrup, maple syrup or some other syrup
1 egg
1 teaspoon vanilla
3 cups oats, old fashioned
1 cup pecans, chopped and toasted
1/4 cup coconut
Instructions
Stir together flour, baking soda, cinnamon and salt; Set aside.
In a large mixing bowl, beat shortening, melted butter and both sugars until creamy (I used a wooden spoon). Stir in honey & syrup, egg and vanilla. Add flour mixture and stir until incorporated. Stir in oats, pecans and coconut.
Using wet hands, form mixture into 3/4 to 1 inch balls and place about 2 inches apart on ungreased cookie sheets. Using palm of wet hand, press down slightly to about ½ inch. Bake at 350 degrees for 11-13 minutes or until edges are brown. Remove to a rack to cool. They will crisp and firm up quite a bit as they cool.
Related posts: