If you could use a little good energy right now, here's a recipe from the side of a Food Lion brand flour bag called Good Energy Maple Cookies. They're thick chewy cookies sweetened with maple syrup and loaded with 5 grain hot cereal for extra fiber and nutrition.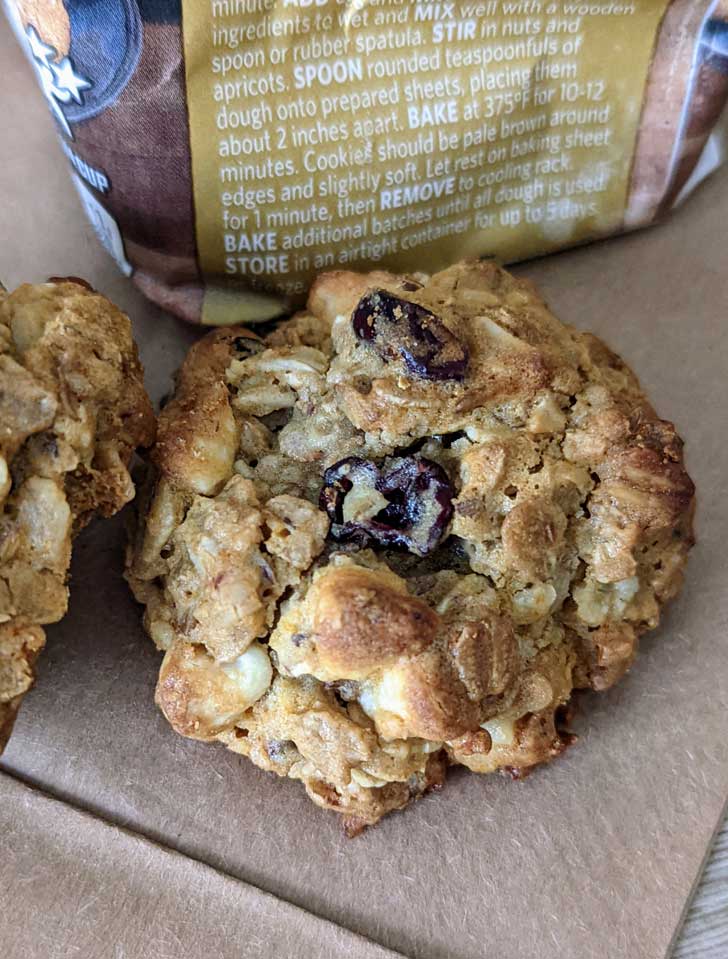 So What is 5 Grain Hot Cereal?
5 grain hot cereal is a blend of oats, wheat, rye, barley and tritricale. You can use 5 grain cereal as you would oats in bread recipes and cookies, but it also makes a very filling and nutritious warm cereal. The blend I'm currently using, Bob's Red Mill, includes a little flax seed for extra flavor, texture and thickening potential. I've also used Trader Joe's (which they call Multigrain, and which I haven't seen lately) as well as Woodstock brand. Some grocery stores carry it and some don't. I wish they all did because it's a lot more interesting than plain oats.
Good Energy Maple Cookies Notes Etc.
So the 5 grain cereal adds a little personality to these cookies, but a note on the bag says that oats also work well. The full cup of maple syrup may seem like a lot, but given the proportions of ingredients, it's really not. I didn't think the cookies were overly sweet and wouldn't add any more or less sweetener. The original recipe calls for apricots. I didn't have any so I used dried cranberries, and I threw in some chips for more good energy. I used white, but dark chocolate chips would be just as good.
What a fun little recipe. It makes a lot of cookies, so you might want to halve it for a smaller group. To halve the egg, just crack it in a bowl, mix it with a fork and measure out 2 tablespoons or about 25 grams.
Recipe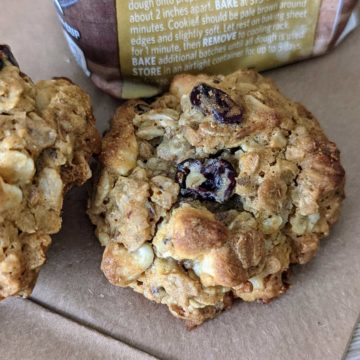 Good Energy Maple Cookies
Thick cookies made with 5 grain cereal. The yield will vary depending on how big you make the cookies. I used a generously packed medium size scoop and got about 36
Ingredients 
3 ½

cups

5 grain hot cereal (uncooked)

Around a pound of cereal, you can use more or less.

1 ½

cups

all-purpose or bread flour

(190 grams)

½

tsp

baking soda

¼ to ¾

tsp

salt (¼ if butter is salted, ¾ if it's not)

¾

cup

butter, softened

(170 grams

1

cup

maple syrup

(305 grams)

1

tsp

vanilla extract or maple extract

1

large

egg

½

cup

dried cranberries or apricots

½

cup

walnuts

½

cup

white chips (optional)
Instructions 
Preheat oven to 375 degrees F. If using convection, 350 degrees F. Line two cookie sheets with parchment paper.

In a medium bowl, stir together the cereal, flour, baking soda, and salt until thoroughly mixed.

In a mixing bowl, beat the butter until soft and creamy. Gradually add the maple syrup, beating until creamy, then beat in the extract and the egg.

Stir the dry mixture into the egg mixture until blended, then add the nuts, cranberries and white chips.

Using a very generous medium size cookie scoop, scoop out balls of dough. If they are crumbly, push them together. Alternatively, you can use rounded teaspoonfuls, which is what the original recipe called for.

Arrange balls of dough on baking sheets about 2 ½ inches apart for large cookies and 2 inches apart for smaller cookies

Bake 12-14 minutes or until brown all over. Cool 5 minutes on cookie sheets and then remove to wire racks to cool completely. If making smaller cookies, check at 10 minutes.