These Chewy Whole Wheat Chocolate Chip Cookies are adapted from a King Arthur book on whole grain baking available in many places and of course on Amazon.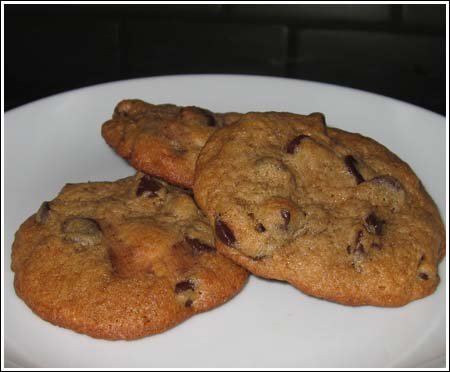 This is a book I heartily recommend for those who like the idea of slipping in whole grains wherever possible or just want to experiment with some unusual flours. I've had fun flipping through it and picking out recipes. Plus, there's a lot of educational information about various whole grains. I'm actually looking forward to settling down tonight and reading about corn, barley flour, buckwheat and spelt.
But back to today's cookie. As I mentioned, it's been busy, so I needed something familiar that I wouldn't screw up or have to put too much effort into baking. I chose Chewy Whole Wheat Chocolate Chip Cookies. Results: They are not quite as chewy or flat as a I expected, but semi-cakey, tender, and crisp around the edge. They do have a nice wheat flavor (thanks to 2 cups of whole wheat flour) and are a lovely shade of brown.
UPDATE -- I put a few cookies in the refrigerator. They dried up a bit and became very firm and cold. Personally, I preferred them that way rather than gooey or warm. So if you happen to like your cookies denser and heartier, these will get that way after they've completely cooled or have been refrigerated.
King Arthur Flour Whole Wheat Chewy Chocolate Chip Cookies
¾ cup (1 ½ sticks, 6 ounces) unsalted butter
1 cup (7 ½ ounces) packed light or dark brown sugar
2 teaspoons vanilla extract
½ teaspoon salt
½ teaspoon baking soda
¼ teaspoon baking powder
½ teaspoon espresso powder (optional)
⅓ cup (3 ½ oz) light corn syrup or brown sugar corn syrup
1 tablespoon apple cider vinegar
2 large eggs
2 ¼ cup (9 ounces) traditional whole wheat flour (I used KA Organic)
3 cups (18 oz) bittersweet or semi-sweet chocolate chips
Melt the butter in a saucepan. Add the brown sugar to the butter and turn off heat. Stir sugar into the hot butter in saucepan, allowing sugar to dissolve slightly from residual heat. Pour into a mixing bowl and let cool for about 30 minutes (or to room temperature)
Stir in the vanilla, salt, baking soda, baking powder, espresso powder (if using) corn syrup and vinegar. Add the eggs, beating well after each. Add flour, stirring to combine, and then mix in the chips. Cover dough and chill. KA says "overnight" but I do not know why. I chilled mine for 2 hours and that seemed like plenty of time. Update: Overnight gives better results as the wheat absorbs more moisture.
Preheat the oven to 375 degrees F. Line 2 baking sheets with parchment or Silpat.
Drop the dough by rounded tablespoonfuls onto the prepared baking sheets. Bake the cookies (reversing the pans midway through, top to bottom, bottom to top...if you are baking more than one sheet at a time) until they are just beginning to brown around the edges, 12 to 13 minutes. Remove from oven and allow to cool completely on the pan. Remove with spatula.
Makes about 4 dozen cookies
Note: KA also says you can add, if you like, ½ teaspoon of espresso powder to the batter. I left this out, but I think it would have been good, had I had it around.