My friend Lisa introduced me to Korova Cookies, which were billed by someone (I can't remember who as "the best cookies in the world". The recipe is originally from Dorie Greenspan's Paris Sweets: Great Desserts From the City's Best Pastry Shops. From there it went to many web sites, including Splendid Table, and then onto Baking From My Home to Yours, where it was renamed by one of Dorie's friends to World Peace Cookies.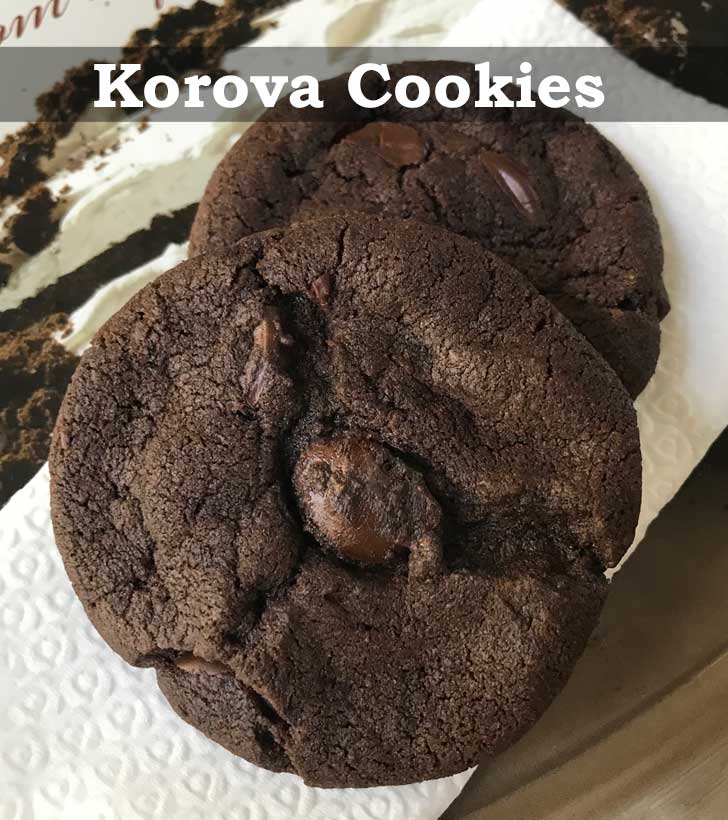 To be honest I wasn't terribly excited about making Korova Cookies because I thought they were just chocolate shortbread. But given their reputation, I made them anyway. My original notes follow. I also included a more recent note with measurements for Tiny Batch Korova Cookies.
Korova Cookies Texture and Flavor
These are really good! They're not shortbread-like, but they're not chewy nor very crunchy either. What they are is a super chocolaty and sturdy. They're extremely easy to put together and the dough freezes well. If you make these, use the best chocolate you have available because it's what stands out. I used Hershey's Dark cocoa because it's what I had. That's also why my cookies are a bit darker. For the chocolate pieces, I used a combination of chopped up Godiva dark and chopped up Ghirardelli bittersweet chips. Use whatever you want, but make sure it's good.
Tiny Batch
The photos needed an update, so I made a tiny batch of Korova Cookies using these measurements: 42 grams flour, ⅛ teaspoon baking soda, 9 grams cocoa powder, 40 grams butter, 30 grams brown sugar, 12 grams sugar, ⅛ teaspoon salt, and a little over an ounce of chopped dark chocolate. I don't use Hershey's Dark Cocoa anymore (still love their Natural, though), so I used King Arthur.
Recipe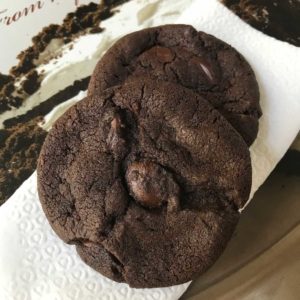 Korova Cookies
Makes about 36 cookies
Ingredients 
1 ¼

cups

all-purpose flour

170 grams

⅓

cup

Dutch-processed cocoa powder

½

teaspoon

baking soda

1

stick plus 3 tablespoons butter at room temperature

155 grams

⅔

cup

packed light brown sugar

130 grams

¼

cup

granulated sugar

50 grams

½

teaspoon

fleur de sel or

¼

teaspoon

fine seas salt

1

teaspoon

pure vanilla extract

5

ounces

bittersweet chocolate

dropped into small bits (140 grams
Instructions 
Sift or whisk together the flour, cocoa and baking soda.

In a mixing bowl, beat butter until creamy. Beat in both sugars, the salt (if using) and vanilla and beat for another minute or two. Reduce speed to low or by hand (which is how I do it), stir in the dry ingredients. Stir only until the dry ingredients are incorporated, then add the chocolate.

Turn the dough out onto a smooth work surface, divide in half. Shape each half into a cylinder that's 1 ½ inches in diameter. Wrap in plastic and chill for at least one hour. You can also freeze.

Preheat oven to 325 degrees F. Line a baking sheet with parchment paper.

Slice logs into ½ inch thick slices. They'll probably break as you slice, so just pinch the dough back together and nudge into circles.

Place the slices on the parchment-lined sheets, leaving about 1 inch of spread space between each cookie. Bake one sheet at a time for about 12 minutes. The cookies will not look done, nor will they be firm, but that's just the way they should be.

Transfer the baking sheet to a cooling rack and let the cookies rest, on the baking sheet, until they are only just warm or until they reach room temperature. Repeat with the second sheet of cookies.

Keeping: The dough can be made ahead and either chilled or frozen. In fact, if you've frozen the dough, you needn't defrost it before baking - just slice the logs into cookies and bake 1 minute longer.