They must be pretty happy in Waco right now, with Dr Pepper Brownies trending. I still haven't tried the boxed brownies with soda, but it reminded me that my old Dr Pepper Chocolate Layer Cake with Chocolate Frosted needed a check-up. It's a cake recipe I made years ago back when putting Dr Pepper in cake seemed like a good idea.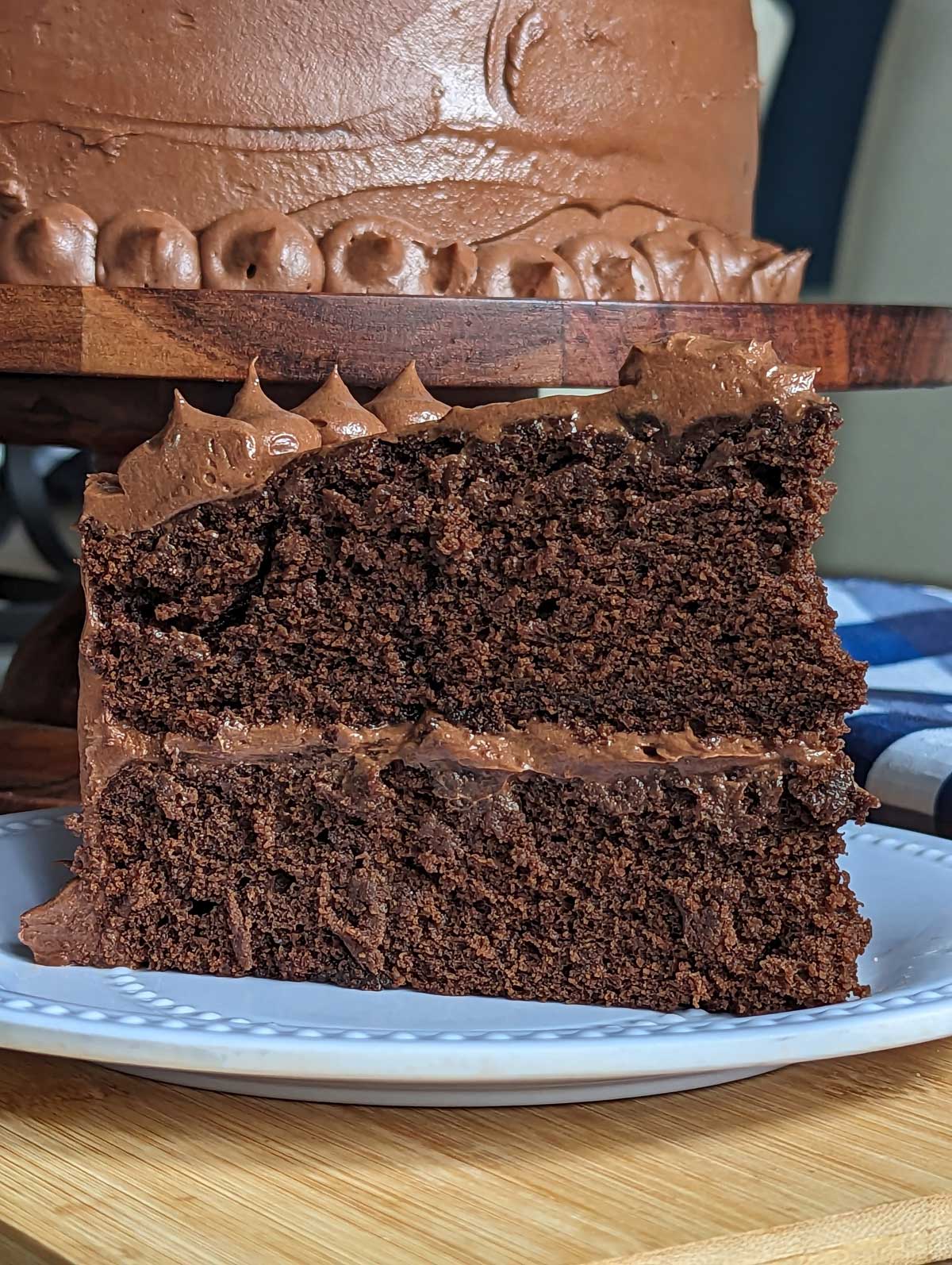 So I baked the Dr Pepper Cake again this week. It seemed a little crumblier than I remembered, and I became fixated on making it less so. Even though it was crumbly at first, it was still delicious once frosted. But I couldn't stop there. I decided that if a cake is going to call for Dr Pepper, it should taste a little more like it. There's novelty in pouring it into a cake (or brownies), but I wanted to infuse more Dr Pepper flavor without water-logging the cake with soda.
Flavors in Dr Pepper Cake
Some believe that the ingredients in Dr Pepper include amaretto, almond, blackberry, black licorice, caramel, carrot, clove, cherry, cola, ginger, juniper, lemon, molasses, nutmeg, orange, prune, plum, pepper, root beer, rum, and raspberry. I always feel like I detect a hint of prunes in Dr Pepper, but according to Snopes there are none. Still, if people think they detect prune flavor in Dr Pepper, it would make sense to put it in the cake along with a few other things people believe are in the actual soda. So in the end, I incorporated a tiny bit of spices, a scrape of orange zest and some prune puree.
Updated Dr Pepper Cake
Here's a re-worked version of the recipe that's slightly fudgier, definitely less crumbly and more interestingly flavored. The spices added were nutmeg, allspice and black pepper, a tiny bit of orange zest, and the prune puree for a hint of flavor and extra moisture. I also reduced the baking temp to 325 degrees F. so the cake will bake up flatter and I heated the milk, which helps dissolve the sugar quicker. The batter is shiny and smooth and bakes into a very soft textured cake. It is a really fun cake to make, and I like it even better with the changes. If you prefer the old version, just remove the prune puree and extra spices and it will be pretty much the same as before.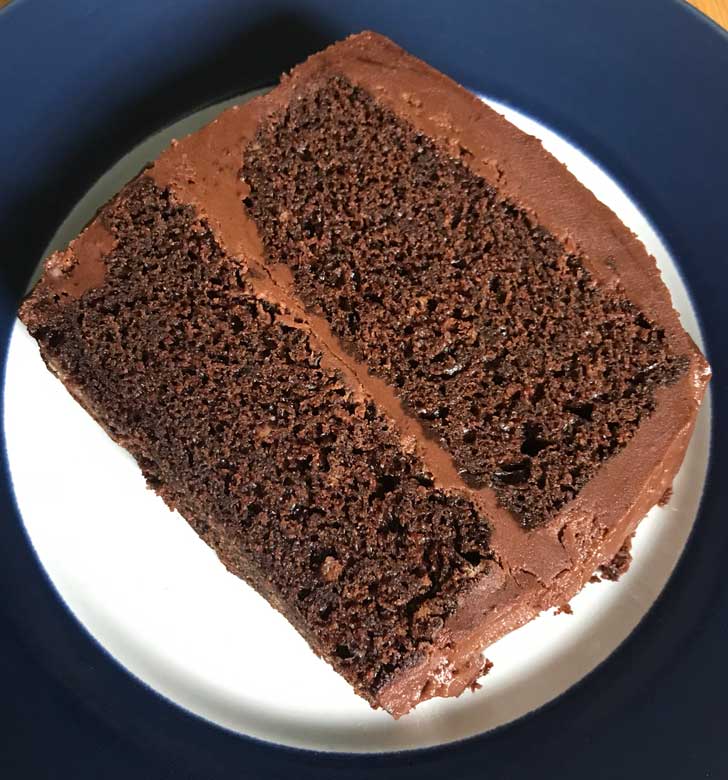 Cake Size
If you don't want to commit to a full cake, it halves easily You can even quarter it and divide between two 5-inch pans (for a thick layer cake) or two six-inch round pans for a very thin two layer cake. I've lost track of how many times I tested this, but it worked really well in different size pans.
Chocolate Frosting
The frosting is the same as before because it is excellent. It's a chocolate flour-based or Ermine type frosting with a silky smooth texture that glides easily over cakes. If you don't get around to making a Dr Pepper Cake, you may want to try the frosting.
Recipe
New Dr Pepper Chocolate Layer Cake
A Dr Pepper Cake with a more interesting flavor. For a more traditional plain chocolate cake, just omit the spices (nutmeg, allspice and pepper) and orange zest. I recommend keeping the prune puree in, but if you don't have any you can leave it out.
Ingredients 
2

cups

all-purpose flour (Weigh or spoon lightly into cups)

(260 grams)

1

cup

sugar, scant

(190 grams)

1

cup

very firmly packed dark brown sugar, remove lumps

(220 grams)

1

cup

unsweetened natural cocoa powder, sifted or whisked to remove lumps. Weigh if possible

(80 grams)

1-½

teaspoons

baking soda

¾

teaspoon

salt

1/16

teaspoon

EACH nutmeg, allspice, and black pepper

1

cup

Dr Pepper, do not use diet

(230 grams)

½

cup

semisweet chocolate chips (chopped chocolate should work, too)

(84 grams)

8

tablespoons

unsalted butter (1 stick) cut into chunks

(114 grams)

1 ½

teaspoons

vanilla extract

⅛

teaspoon

orange zest (can use even less if desired

2

large

eggs

(100 to 110 grams)

½

cup

vegetable oil, Wesson

¼

cup

pureed prunes aka prune baby food

1

cup

buttermilk or use the whole milk mixed with lemon juice or vinegar sub
Silky Chocolate Butter Frosting:
¾

cup

granulated sugar

(150 grams)

¼

cup

all purpose flour

(30-35 grams)

3

Tbsp

unsweetened cocoa

(15 grams)

1

cup

milk, whole

whole

1

cup

butter, salted**

(230 grams)

1 ½

teaspoons

vanilla extract, plus more to taste

6

oz

bittersweet chocolate

melted and cooled -- you can do this in microwave or over bowl set over simmering water
Instructions 
Preheat oven to 325°F. Grease two 9x2-inch cake pans and line with rounds of parchment. Grease again and dust with flour. You can grease using your favorite method or use baking spray. I almost always grease with shortening

In a fairly large bowl, mix together the flour, sugar, dark brown sugar, cocoa powder, baking soda, salt, nutmeg, allspice and pepper. Mix very well to break up any lumps of dark brown sugar. Set aside.

In a small saucepan, heat the Dr Pepper just until it begins to simmer, then reduce heat to low and add the chocolate chips. Remove from heat and stir until chips are melted, then stir in the chopped up butter, vanilla extract and orange zest, allowing the butter melt while you proceed with the recipe.

With an electric mixer (preferably stand mixer with whisk), begin beating the eggs. Drizzle in the oil and then then the prune baby food and continue beating on medium for one minute. Scrape sides of bowl and stir in the melted chocolate mixture.

Add the dry ingredients and beat or stir on low just until fully blended.

Heat buttermilk in the microwave for about 1 minute or just until it is very hot, then pour it in the batter. Beat on low just until smooth and blended.

Divide the batter evenly between the prepared pans (about 28 oz of batter per pan). Bake at 325 degrees F for 35 minutes or until a toothpick comes out clean. It may take up to 38 minutes, but check at 35.

Let cool in pans for 15 minutes, then invert onto cooling racks, lift off pans and allow to cool completely before frosting. The frosting requires cooling time, so you may want to get started on that right away
Silky Chocolate Frosting
For the frosting, off the heat, combine the sugar, flour and cocoa in a small saucepan. Add the milk and whisk until smooth.

Put the mixture over medium heat and cook, whisking constantly, until mixture thickens and boils. Reduce heat to low, cook 2 minutes, whisking all the while. Remove saucepan from heat and scrape the thick pudding mixture onto a dinner plate. Cover with a piece of parchment, wax paper or plastic wrap and let cool completely.

In a large bowl with mixer at medium speed, beat softened butter until creamy. Gradually beat in cooled milk mixture, vanilla and melted cooled chocolate.

Note: If you do all the steps above and get a gooey mess, it's probably because something was too warm. I've done this a couple of times in the past and the fix is to beat in the chocolate as directed, but put bowl in refrigerator for 30-40 minutes to chill. The chilled mixture will whip up into a delicious, silky frosting.
Notes
If using unsalted butter in the frosting, add about ½ teaspoon of salt to the recipe.