Spelt is an ancient grain with many health benefits. It's used in this cookie from Viva le Vegan! a wonderful and very informative cookbook by Dreena Burton.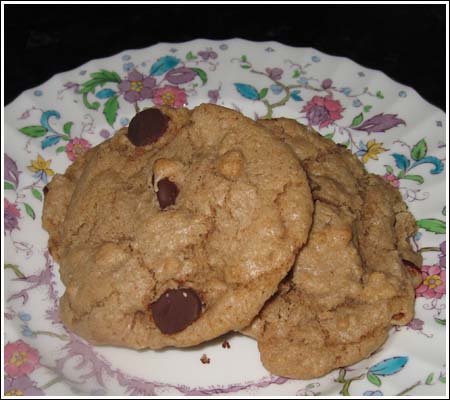 Vegan Spelt Chocolate Chip Cookies
1 1/4 cups spelt flour
1/4 teaspoon salt
1 teaspoon baking powder
1/2 teaspoon baking soda
1/4 cup granulated sugar
1/3 cup maple syrup
1/3 cup canola oil (or other vegetable oil)
1 1/2 teaspoons vanilla extract
1/3 cup toasted pecans
2/3 cup vegan chocolate chips or some cut-up vegan chocolate bar
Preheat oven to 350 degrees F. Line a cookie sheet with parchment, Release foil or just use a non-stick cookie sheet.
In one bowl, thoroughly stir together spelt flour, salt, baking powder, baking soda and sugar.
In a second bowl, stir together maple syrup, oil and vanilla extract.
Add the oil mixture to the spelt mixture and stir until combined. Stir in pecans and chocolate chips.
Drop by rounded tablespoonfuls onto prepared cookie sheet and bake for 11 minutes.
Note: To toast pecans, put them in a dry skillet set over medium heat. Cook over dry heat, stirring often so that they won't burn, for 3-5 minutes or until they become fragrant and start to release their oils. Let them cool completely before adding to the batter.
Cookie Madness Tip of the Day: Start with whole pecans rather than pre-chopped. The whole ones taste fresher. I use to buy the pre-chopped ones, but this past year I've bought two stale bags of pre-chopped and have given up on them. If you do buy pre-chopped, go with a name brand rather than a store-brand. This tip is based on my personal experience and irritation over having a couple of batches of brownies ruined by bad nuts. Also, store your nuts in the freezer.