Vegan Spelt Chocolate Chip Cookies, also known as Homestyle Chocolate Chip Cookies, are based on a recipe from one of Dreena Burton's older books, Vive le Vegan. Back when Dreena wrote the book there weren't nearly as many vegan chocolate chip recipes, and I remember being surprised at how good these were without the eggs and butter. And then there's the spelt. These can be made with all-purpose flour, but the spelt flour version has a little more flavor and adds character.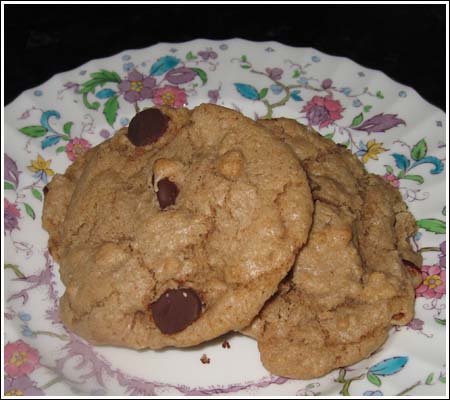 Spelt
So what happened to spelt? For a while I was seeing it all over the place in vegan cookbooks. Now recipes that might have called for spelt at one point just use various gluten-free flour blends with sorghum, rice flour, tapioca and such. This makes sense because even though spelt has some nutritional benefits, it is not gluten-free. It's also relatively high in fructans, so if you are on a low fodmap diet it's not an ideal choice. On the other hand, it's a flavorful flour which people often describe as "butterscotch-y". And some bakers say they like the texture it imparts. You can try the Vegan Spelt Chocolate Chip Cookies and come to your own opinion on that.
Pecans
The toasted pecans add a lot of flavor to these cookies as well. I recommend starting with whole pecans rather than pre-chopped. The whole ones taste fresher. If you do buy pre-chopped, go with a name brand rather than a store-brand. This tip is based on my personal experience and irritation over having a couple of batches of brownies ruined by bad nuts. Also, store your pecans the freezer.
Vegan Spelt Chocolate Chip Cookies
1 ¼ cups spelt flour
¼ teaspoon salt
1 teaspoon baking powder
½ teaspoon baking soda
¼ cup granulated sugar
⅓ cup maple syrup
⅓ cup canola oil (or other vegetable oil)
1 ½ teaspoons vanilla extract
⅓ cup toasted pecans
⅔ cup vegan chocolate chips or some cut-up vegan chocolate bar
Preheat oven to 350 degrees F. Line a cookie sheet with parchment, Release foil or just use a non-stick cookie sheet.
In one bowl, thoroughly stir together spelt flour, salt, baking powder, baking soda and sugar.
In a second bowl, stir together maple syrup, oil and vanilla extract.
Add the oil mixture to the spelt mixture and stir until combined. Stir in pecans and chocolate chips.
Drop by rounded tablespoonfuls onto prepared cookie sheet and bake for 11 minutes.
Note: To toast pecans, put them in a dry skillet set over medium heat. Cook over dry heat, stirring often so that they won't burn, for 3-5 minutes or until they become fragrant and start to release their oils. Let them cool completely before adding to the batter.