I didn't bake anything today, so I thought I'd post a picture and a recipe from a few years ago. It's really only useful if you have some pecan pie around, but chances are at some point, you will.....perhaps late November? Pecan Pie Muffins are muffins stuffed with pecan pie.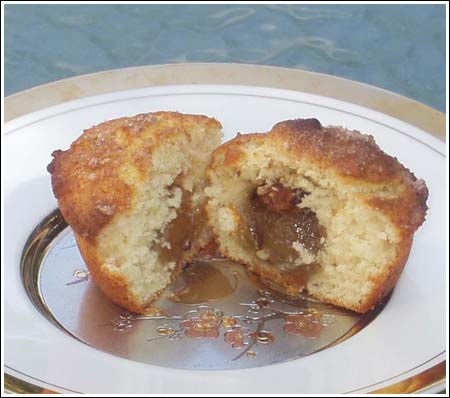 If you really like the idea and don't have any pecan pie, you can buy a box of frozen pie slices. In fact, the muffins in this picture were made with Edwards pie singles. You might even be able to use other brands of pecan pie....like those mini pies they sell at Quickie Marts and Walgreens and such....or maybe even Hostess Cherry Pies or Mrs. Bairds pies or Grandma's apple pies or a pie made by Little Debbie Just don't try it with a cream pie!
Pecan Pie Muffins
3 slices pecan pie, frozen - homemade or pre-frozen
1 egg
1 cup milk
½ cup unsalted butter, melted and cooled
½ teaspoon vanilla extract
2 ¼ cups all purpose flour
½ cup sugar
3 ½ teaspoons baking powder
1 teaspoon salt
Topping:
2 tablespoons sugar
¼ teaspoon cinnamon
Preheat oven to 400 degrees F. Grease a 12 cup muffin tin or spray with flour-added Pam.
Cut each frozen pie slice into 4 chunks. Place one pie chunk in each muffin tin.
In a small bowl, beat together egg, milk, melted butter and vanilla extract.
In large bowl, combine flour, sugar, baking powder, and salt. Add egg mixture; stir just until blended.
Spoon batter into muffin tins, covering pecan pie chunks. Stir together topping ingredients (sugar and cinnamon) and sprinkle evenly over muffin tops.
Bake for 20 minutes. Let cool for 5 minutes; remove from muffin tins.
Makes 12 muffins