After making the Hazelnut Cream Cake, I had skinned hazelnuts leftover and needed to use them in something right away. So hello Oregon Hazelnut Oatmeal Cookies!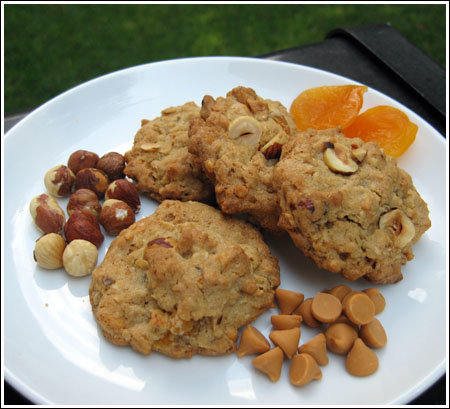 This recipe is from the Oregon Hazelnut Growers. For convenience, I have typed it below with a few changes. For instance, I used butterscotch chips instead of white chips. The butterscotch chips were good, but I think chunks of white chocolate would be better. You can also halve the recipe pretty easily if you don't want quite so many.
Oregon Hazelnut Oatmeal Cookies
1 cup butter flavor shortening (Crisco or one of the new non-hydrogenated types)
1 cup granulated sugar
1 cup firmly packed light brown sugar
2 eggs
1 teaspoon vanilla
1-½ cups flour
1 teaspoon baking soda
¾ teaspoon salt
2-½ cups quick oats, uncooked
1 cup finely chopped Oregon hazelnuts (toasted)
1 cup finely diced dried apricots tossed in 1 tablespoon all purpose flour
1 cup butterscotch chips or chopped white chocolate chunks
Preheat oven to 350 degrees F. Have ready a couple of ungreased cookie sheets.
Cream Crisco and both sugars in a large bowl. Beat in eggs and vanilla.
Combine 1-½ cups flour, baking soda and salt. Stir into creamed mixture with spoon. When flour is incorporated, stir in the oats, toasted chopped hazelnut, butterscotch chips. And flour-tossed apricot.
Shape into 1-½- inch balls. Flatten slightly (I forgot to do this). Place 2 inches apart on the cookie sheets and bake at 350 degrees for 11-13 minutes or until slightly moist in center and just beginning to brown around edges. Remove immediately and cool on a wire rack.
3 dozen cookies