Here's a recipe you won't find on the back of a bag. This "Mojito Cake" was invented by my friend Janice's husband, Larry who likes to put a creative twist on old recipes. This recipe, which evolved from a very old recipe involving crushed pineapple and angel cake mix, is one of Larry's best.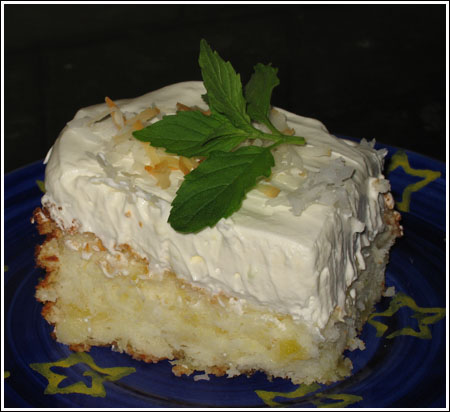 For the baking dish, either a 15×10 inch or a 13×9 inch pan will do. Larry baked his in a 15×10 inch pan, but I like to bake mine in a 13×9 inch metal pan. I believe it would look good baked in a 13×9 inch Pyrex dish, but if you use Pyrex, reduce the heat to 325 degrees.
This is one of those easy desserts that is truly better than the sum of its parts, so save it and whip it up when you need something quick and refreshing…like now!
Larry's Mojito Cake
20 ounce can crushed pineapple, un-drained
Juice of 1 lime
1 (1 lb.) box angel food cake mix
8 ounces reduced fat cream cheese, softened
1/4 cup limeade concentrate (straight from the can)
1-4 tablespoons powdered sugar
1 teaspoon rum extract
8 oz tub (3 1/4 cups) whipped topping
1/3 cup shredded sweetened coconut
Zest of 1 lime
Mint leaves
Preheat oven to 350 degrees F. Spray a 13×9 inch metal pan with cooking spray. If you use a Pyrex dish, reduce the heat to 325 degrees F. You can also use a 15×10 inch pan, which is what Larry uses.
In a mixing bowl, stir together the pineapple, lime juice and angel food cake mix. Pour the mixture into the pan and bake it using the following cook times – 18-24 minutes for a 15×10 inch pan or about 25 minutes for a 13×9 inch pan. Let cool completely in pan.
In mixing bowl, beat together the softened cream cheese and limeade concentrate. Check for sweetness. Add 1 tablespoon sugar at a time sugar at a time and taste to get the sweetness you like – I used 4 tablespoons. Beat in rum extract, then fold in whipped topping or whipped cream. Spread over cooled cake. Sprinkle with coconut and lime zest. Top each serving with mint leaves.
Serves 8-10