I couldn't settle on a recipe this morning and almost gave up….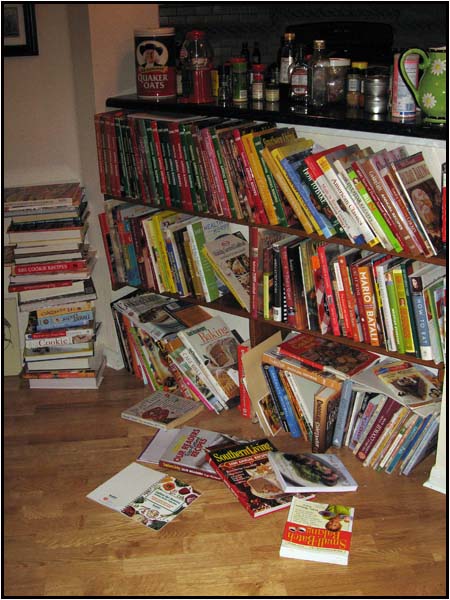 …until I found my King Arthur Whole Grain Baking Book.
I'd put it away months ago and had forgotten about the many things I'd bookmarked and planned on trying. One in particular, was Salted Cashew-Crunch Cookies. I had exactly 8 ounces of salted cashews in the pantry, so I got to work.
The cookies were delicious and I couldn't wait to share the recipe. But first, I checked with Google to see if it had been posted. Indeed it had, and by none other than Joe - -back in May 2007.
My cookies looked like Joes. We followed the recipe pretty much the same way, except I did what KA sometimes does and mixed the baking powder and salt in with the butter/sugar/egg mixture rather than the dry ingredients. The cookies were delicious -- crunchy and packed with cashew flavor. I have to admit, I was worried the cookies would be too salty with the extra salt on top, but they were perfect.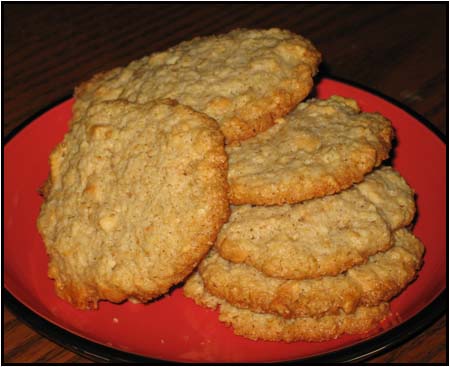 Salted Cashew-Crunch Cookies
8 tablespoons unsalted butter, softened
¾ cup granulated sugar
1 large egg
1 teaspoon vanilla
¼ teaspoon baking powder
½ teaspoon table salt or Morton Kosher
2 cups old-fashioned rolled oats, ground for 30 seconds in a food processor
2 cups salted coarsely chopped cashews
More Salt (Diamond crystals or fleur de sel or more Morton Kosher)
Preheat oven to 350
In a large mixing bowl, cream together butter and sugar. Beat in egg, vanilla, baking powder and salt, scraping sides of bowl to make sure baking powder is distributed evenly. Stir in oats and chopped cashews.
Using a tablespoon, drop the dough onto parchment lined baking sheets. Using your fingers or the bottom of a glass, press the dough into ⅜ inch thick circles. Sprinkle the circles very lightly with a finishing salt. If you don't have any fancy salt, you can use a very tiny pinch of Morton Kosher or table salt.
Bake until the cookies are light golden, about 12 to 14 minutes. Remove from the oven and let the cookies cool on the baking sheet.
Makes about 30 cookies.