My make-ahead Thanksgiving dishes are done, but it's too early to start the others. I guess this is Thanksgiving purgatory, so to pass the time I tried out a new chocolate chip cookie recipe called In Between Chocolate Chip Cookies. The recipe is from Shirley Corriher, a famous food scientist/cook.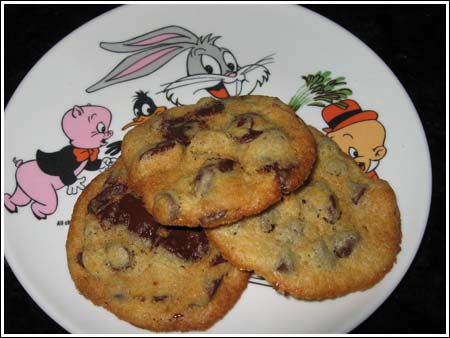 I changed the amount of nuts and chips and that's about it. She calls these her "in between" cookies because they're neither too thick nor too thin. Mine were a little on the thin side, but they were delicious with crispy edges and soft centers. Sometimes cookies made with baking powder and cake flour come out a little cakey and not very brown. These aren't cakey at all. In her book Cookwise
, Shirley has 3 other versions of this cookie – basic, puffy and thin.   Cookies aside, Cookwise is a great book and a must for anyone interested in the science behind baking and cooking.
Shirley Corriher's In Between Chocolate Chip Cookies
1/2 cup pecan halves
1/2 tablespoon butter
1 1/2 cup cake flour
3/4 teaspoon salt
1 1/2 teaspoon baking powder
5 tablespoons unsalted butter
5 tablespoons butter-flavored shortening
3/4 cup light brown sugar
2 tablespoons light corn syrup
1 large egg
1 tablespoon pure vanilla extract
1 1/4 cups semisweet chocolate chips (6 ounces)
Nonstick cooking spray
Preheat the oven to 350 degrees.
On a large baking sheet, roast the pecans for 10 to 12 minutes. While the nuts are still hot, stir in the 1/2 tablespoon butter. Let the pecans cool then chop them.
Turn the oven up to 375 degrees.
In a medium bowl, sift together flour, salt and baking powder; set aside
Beat butter, shortening and brown sugar in a large bowl until light and fluffy. Add the corn syrup. Add the egg and beat for 30 seconds. Stir in the vanilla. With a mixing spoon, gradually add the flour mixture until thoroughly combined. Stir in the pecans and chocolate chips
Line cookie sheets with non-stick foil or parchment. Drop rounded tablespoons of batter about 2 inches apart onto the sheets and bake the cookies for about 12 minutes or until the edges just begin brown. Remove from the oven and let the cookies cool on the sheet on a cooling rack for 3 minutes, then remove the cookies to a rack to cool completely.
Makes about 20 cookies — Note:  These work better on Air-Bake (insulated) cookie sheets.