This cookie is a twist on the famous "Oatmeal Scotchie" recipe. Adding sunflower seeds was such a great idea!
The Oatmeal Scotchies were medium thickness, very sturdy, and extremely flavorful. As for the seeds, I had some roasted salted kernels so I used those and did not make any adjustments to the original amount of salt.
Update:  If you have sunflower seeds, throw some in.  But Oatmeal Scotchies are just as good with the usual walnuts or pecans.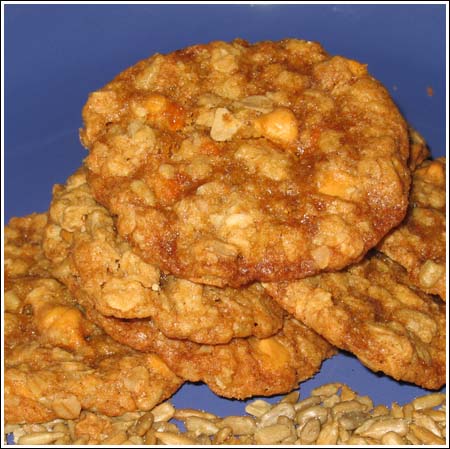 Oatmeal Scotchies with Sunflower Seeds
Oatmeal Scotchies with Sunflower Seeds
Ingredients
3/4 cup all purpose flour (92 grams)
1/2 teaspoon baking soda (2.5 ml)
1/2 teaspoon salt (2.5 ml)
8 tablespoons unsalted butter, room temperature (114 grams)
1/2 cup granulated sugar (98 g)
1/2 cup light brown sugar, lightly packed (98 g)
1 large egg
1 teaspoon vanilla (5 ml)
1 1/2 cups oats (126 g)
1/2 cup roasted sunflower seed kernels (60 g) – I used salted
3/4 cup butterscotch chips (126 g)
Instructions
Preheat oven to 350 degrees F. (180 degrees C).
Stir together flour, baking soda and salt. Set aside.
Cream butter and both sugars using high speed of an electric mixer, scraping sides of bowl often. Add egg and vanilla and beat for 30 seconds. Add flour mixture and stir until absorbed, then stir in oats, sunflower seeds and butterscotch chips.
Drop by generously rounded teaspoonfuls (3/4 inch mound) onto ungreased cookie sheets. Flatten tops slightly and bake for 12 minutes or until golden brown around edges.