This was sent to me by my new baking friend, Midge, who swapped out blueberries for cranberries in a white chocolate chip cookie recipe. These are easy and unique cookies – perfect for a Monday morning.
I wanted to try the cookies as Midge wrote the recipe, but I had to make a couple of very minor changes. I prefer white chocolate to white chips, so I used a chopped up Ghirardelli bar and instead of 300 degrees F, I cooked these for 15 minutes at 325 degrees F.
Thanks for the recipe, Midge!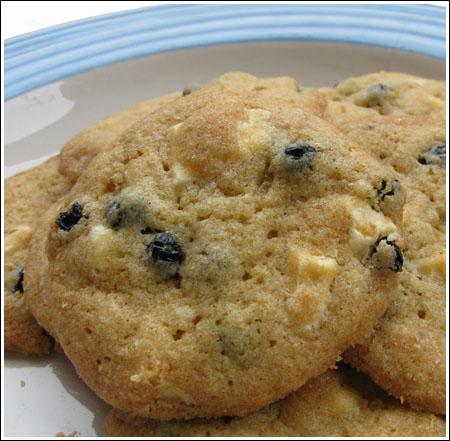 Midge's Blue and Whites (Version 1)
2 ½ cups all purpose flour
½ tsp baking soda
¼ t salt
1 c dark brown sugar
½ c sugar
8 ounces butter, room temp (2 sticks)
2 eggs, room temperature
2 tsp pure vanilla extract
5 ounces chopped white chocolate or 1 pkg white chocolate chips (I use Ghiradelli)
4 oz. dried blueberries (more or less depending on what you like)
Preheat oven to 300 degrees F (Note: I used 325 degrees F.)
Cream sugars with butter add eggs and vanilla. Sift flour, baking soda and salt together and add to creamed mixture. Add white chocolate and blueberries. Drop by spoonfuls and bake for 10-12 minutes (took me 15 minutes). -- Anna
Makes about 48 cookies
UPDATED:
Midge mentioned her cookies were sweet and they are. If you want a fatter and slightly less sweet cookie, here's another version.
Blue & Whites Version 2 (Thicker and Less Sweet)
1 ¼ cups all purpose flour
1 ½ teaspoons baking powder
¼ teaspoon salt
9 tablespoons butter — softened
½ cup light brown sugar, packed
1 tablespoon granulated sugar
1 egg
½ teaspoon vanilla extract
1 ½ oz dried blueberries
3 ounces white chocolate — cut into chunks
Preheat oven to 350 degrees F. Have ready two ungreased cookie sheets.
In a medium size bowl, mix together flour, baking powder and salt.
In a second bowl cream butter and both sugars. Add egg and vanilla and beat for 30 seconds.
Add flour mixture and stir with a mixing spoon until well mixed.  Stir in dried blueberries and white chocolate.
Drop by rounded teaspoonfuls onto ungreased cookie sheets.
Bake for 12 minutes. Cool on cookie sheet for 2 minutes, transfer to a wire rack to finish cooling.