Today's recipe is a scaled down version of Jill Silverman's Flourless Chocolate Hazelnut Cake from the January issue of Bon Appetit.  I originally made it in two mini springform pans -- the kind typically used for cheesecake. I think I'm going to try it again very soon in a six inch cake pan. Thanks to the Instant Pot, this pan size is becoming more popular. I'll post an update when I get around to making the six inch pan version.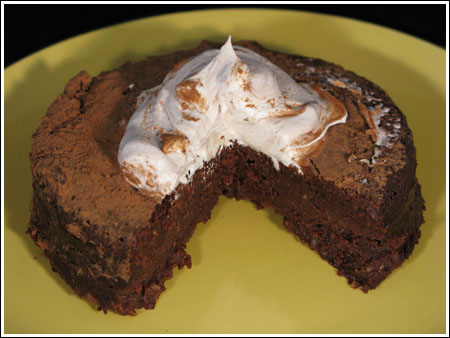 Flourless Chocolate Hazelnut Cake for Two
4 ounces 60% cacao bittersweet chocolate, chopped
4 tablespoons unsalted butter, cut into chunks
2 large egg
⅓ cup packed light brown sugar
1 ½ tablespoons Frangelico or other hazelnut liqueur, divided
⅓ cup finely ground hazelnuts (ground in processor;) (1 ⅔ oz) – I toasted mine
pinch of regular salt or Morton Kosher. If using Diamond, use a bigger pinch
⅓ cup chilled heavy whipping cream
Chopped toasted hazelnuts for garnish
Preheat to 350°F. Butter two mini (3 ½ inch) springform pans and line bottom of pans with parchment paper rounds. Wrap outside of pans tightly with 3 layers of heavy-duty foil.
Combine chocolate and butter in medium metal bowl; set bowl over saucepan of simmering water. Whisk until mixture is melted and smooth. Remove bowl from over water. Alternatively, you may do this in a microwave-safe bowl – heating on high, stirring every 30 seconds.
Whisk eggs, brown sugar, and 1 tablespoon Frangelico in a medium size mixing bowl to blend. Add chocolate mixture and whisk until smooth. Stir in ground hazelnuts and kosher salt. Transfer batter to prepared pan. Place both mini pans side by side in a larger pan (9 inch). Pour enough hot water into roasting pan to come halfway up sides of springform pans. Place in oven and tent loosely with foil (I didn't tent). Bake until cake is set in center and top is dry to touch, about 38 minutes. Remove cakes from water; remove foil from top and outside of pan. Cool cake in pan on rack. Chill cake until cold, about 3 hours. DO AHEAD: Can be made 3 days ahead. Cover and keep chilled.
Using electric mixer, beat whipping cream and remaining ½ tablespoon Frangelico in medium bowl until soft peaks form. Run knife around pan sides to loosen cake. Release pan sides. Cut cake into wedges. Transfer to plates. Top with whipped cream; sprinkle with chopped toasted hazelnuts.
Makes two cakes, serves 4