Last night I had everything on hand to make a Carrot Bundt Cake. Well, everything but applesauce. Luckily Todd was able to stop at the store to pick some up, and I was able to make the cake for today's luncheon.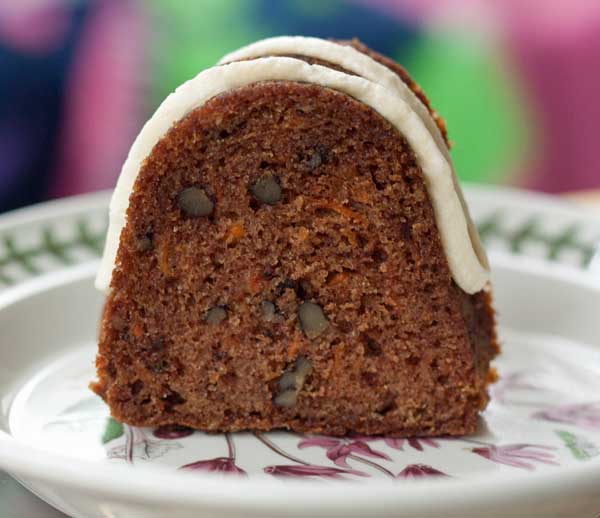 Since it was for an event, I couldn't cut into it this morning and show you a texture shot (Update: Texture shot added!), but I did get a little sample at the luncheon and it was very good – probably the best carrot bundt cake I've ever made. The original version is from Good Housekeeping, but I improvised slightly with the add-ins.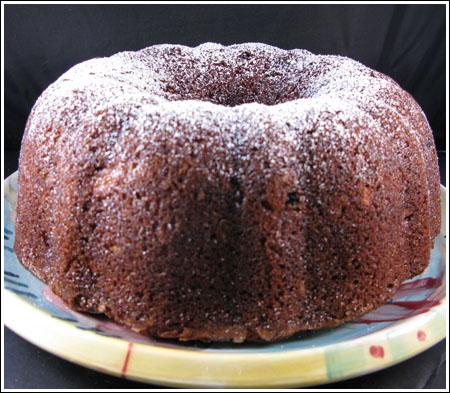 Try not to be put off by all the oil. It's a big cake so proportionately that amount is correct and not so over-the top. That said, I'm not going to bill this as a healthy cake and wouldn't recommend eating it every day for breakfast. You could try cutting the oil in half, but you'd have a different cake. If you are looking for a reduced fat carrot cake, here's another one from Good Housekeeping.
Carrot Bundt Cake
3 cups all-purpose flour (380 grams)
2 ½ cups granulated sugar
1 tablespoon baking soda
1 teaspoon salt
1 tablespoon cinnamon
4 large eggs
1 ½ cups vegetable oil
2 teaspoons vanilla extract
1 cup applesauce
2 packed cups shredded and chopped carrot (230 grams)**
1 cup nuts, toasted and chopped walnuts or pecans
¾ cup plumped raisins plus about ¼ cup dried cherries (optional)
⅓ cup shredded coconut (optional)
Powdered sugar for garnish
Preheat oven to 325 degrees F. Spray a 10 inch Bundt pan with flour-added cooking spray. This is a sticky cake, so make sure every inch is covered.
In a large bowl, thoroughly stir together flour, sugar, baking soda, salt and cinnamon.
In a second bowl, stir together eggs, oil and vanilla extract. Add oil mixture to flour mixture and stir with a mixing spoon until blended.
Add applesauce and stir just until mixed, then stir in carrots, walnuts, raisins (and cherries if using) and coconut. Pour mixture into pan and bake for 1 hour and 20 minutes.
Let cool in pan for about 10 minutes, then flip from pan.
Makes 16 servings
Notes: For the carrots, I usually shred the carrots in the food processor or grate them with a grater, then put them on a cutting board and chop them.
I didn't try this until the next day (today) and can say that it is indeed a great make-ahead. It might even be better today than yesterday. I didn't bother with a glaze – just a sprinkling of powdered sugar for garnish.