Today's cookie is based on a recipe from Wendy Gaynor, who owns a cookie shop in New York City. It's a variation on her "Perfect Chocolate Chip Cookies" recipe, which can be found in this old Times article. But this is the lemon variation, and I got it from Lisa Ernst.  It's called White Chocolate Chunk Lemon Cookies.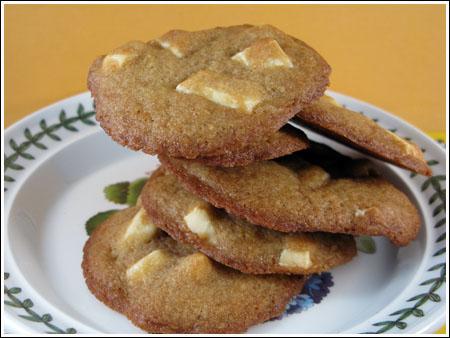 Interestingly, Lisa doesn't love white chocolate, but likes these cookies. I think I do too. They're loaded with white chocolate (I used Lindt) and that of course, goes well with lemon. If I'd had it, I would have used lemon oil. Instead, I used about ½ teaspoon of lemon extract plus a tablespoon of lemon zest instead.
As I write this, I am noticing that I have now posted 3 recipes that don't involve chocolate.  What's happening to me?
Recipe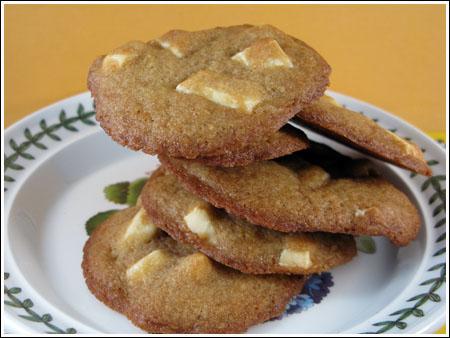 White Chocolate Chunk Lemon Cookies
Wendy Gaynor's Lemon White Chunk Cookies
Ingredients 
4

ounces

1 stick unsalted butter, at room temperature

½

cup

packed dark brown sugar

¼

cup

granulated sugar

1

large egg

1

cup

plus 1 ½ tablespoons all-purpose flour

½

teaspoon

salt

⅜

teaspoon

baking soda

½

teaspoon

pure vanilla extract

1 ½

teaspoons

lemon extract or lemon oil

2

cups

white chocolate chunks
Instructions 
Place the butter in a large bowl and cream at high speed until fluffy. Add the sugars and beat until light and fluffy, about 3 minutes, scraping down sides of bowl occasionally. Beat in egg.

In a separate bowl, mix flour, salt and baking soda. Add to the butter mixture at low speed until just combined and add vanilla extract. Beat on medium speed, scraping bowl down, until blended. Do not overmix.

Add white chocolate chunks and mix till thoroughly combined. Refrigerate batter until cold, preferably overnight.

Preheat a conventional oven to 350 degrees or a convection oven to 300 degrees, and line several baking sheets with parchment paper. Drop heaping spoonfuls of batter 2 inches apart on the lined baking sheets and bake, turning tray once, until golden brown around edges and soft (but not bubbly), about 9 minutes in a convection oven or 12 in a conventional one. Cool on a wire rack.

-36 cookies
Notes
Recipe courtesy of my friend Lisa.