Sorry today's recipe is a little late, but I had a hard time choosing what to make. I've been feeling guilty about spending money on ingredients and wanted to limit myself to what was on hand, which in this cake meant regular Coke and a couple handfuls or marshmallows.
This is a familiar cake – especially to those from the southern United States who often remember it more for the shiny, flaky, screamingly sweet frosting than the cake itself. The flavor is interesting – more Coke-like and less chocolate-driven than some cakes, but the moistness factor is what really stands out. If you know someone who likes almost any cake as long as it's really moist, this is sure bet. Plus, it keeps well.
Here's a link to the 13x9 inch version which Coke says was developed by The Junior League of Atlanta.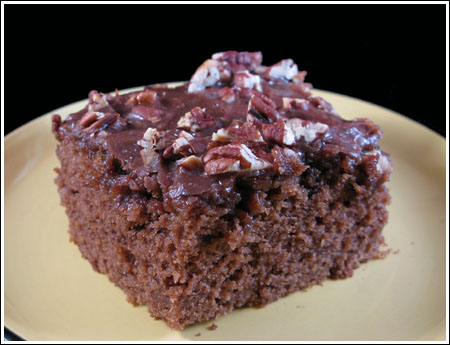 Mini Coca Cola Cake
Cake
1 cup all-purpose flour
1 cup sugar (or use ¾ and 2 tablespoons for slightly less sweet cake)
¼ teaspoon salt plus an extra pinch (omit if using salted butter)
4 oz unsalted butter
1 ½ tablespoons unsweetened natural cocoa powder
½ cup Coca-Cola
¼ cup buttermilk or sour milk
½ teaspoon baking soda
1 large egg
½ teaspoon vanilla
¾ cups miniature marshmallows (they'll disappear into the cake)
Frosting
½ pound powdered sugar
¼ teaspoon salt (omit if using salted butter)
4 ounce unsalted butter
1 ½ tablespoons unsweetened cocoa powder
3 tablespoons Coca-Cola
½ teaspoon vanilla
⅓ chopped, toasted pecans
Preheat oven to 350 degrees F. Grease an 8 inch square metal pan.
In a mixing bowl, stir together the flour and sugar.
In a saucepan, heat butter over medium. When it is partially melted, stir in the coca powder and cola. Bring to a boil. Remove from heat and pour over flour mixture. Stir lightly.
In a separate container, stir the baking soda into the buttermilk, then whisk or stir in the egg and vanilla. Pour buttermilk mixture into chocolate mixture. Stir in the marshmallows. Pour batter into pan and bake for 30 minutes or until set.
While cake is in oven, sift the powdered sugar into a mixing bowl so that it will be ready to go when you are reading to prepare frosting.
When cake is done, remove from the oven and set on a rack. In a saucepan, combine butter, salt, cocoa powder and Coke; heat to boiling. As soon as it reaches a good boil, pour chocolate coke mixture into bowl with sifted powdered sugar and beat with a spoon until smooth. Add vanilla. Pour over cake while hot. Sprinkle nuts over top. At this point, it will look very gooey and wet. Allow the cake to sit for a few hours. The icing will set up.
Serves 6