These crunchy chocolate chip cookies are from Rosie's Bakery Cookbook, which I love. The recipes are great and Judy Rosenberg does an amazing job of explaining semi-complicated things. However, she does use some crazy measurements and this crunchy chocolate chip cookie recipe is a case in point. Half an egg yolk?  Whatever works, right?  UPDATE:  I'm all for crazy measurements these days. Whose to say a half egg yolk is not going to be the key thing that make a recipe better? And when it come to volume, so many of us are trapped by the constraints of the Imperial system.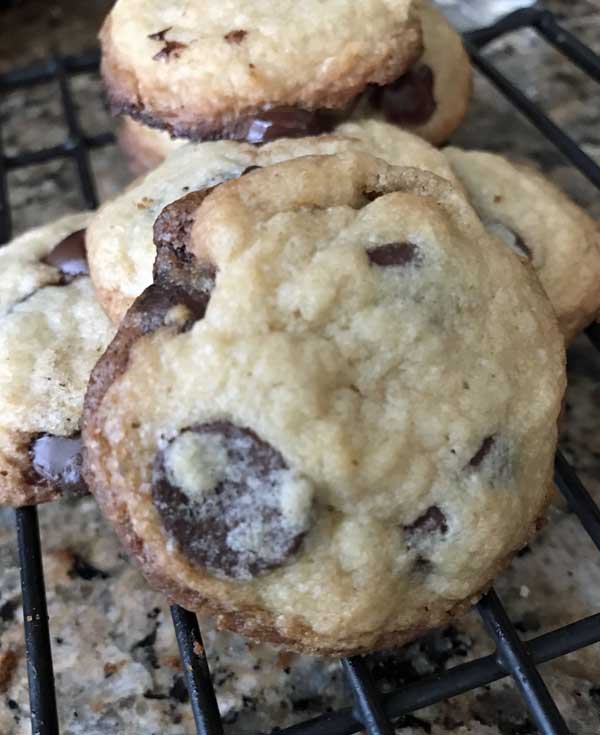 I found the original recipe, reprinted with permission, HERE. It's the Fresh Direct site and it might ask you for your zip code.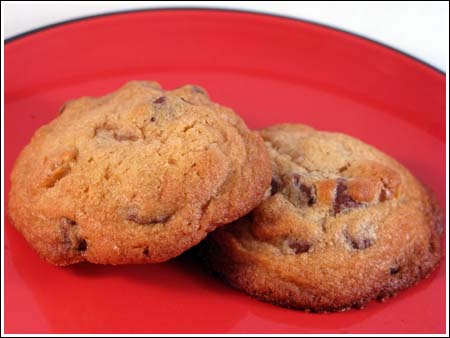 End result. Very good! Thickish, but with some crunch. My only advice is if you cook the cookies at 400 degrees, to check the cookies at 10 minutes. If you know your oven runs hot, use 375 degrees. My cookies were done 10 minutes at 400 F. Also ¾ cup of chocolate chips? Is that some kind of a joke? Increase them! Toasted walnuts are optional, but I added them and they were delicious.
Update: Since posting this I've added gram weights for accuracy. The cookies are fairly small. You can make them larger, but they might not bake up quite as crunchy. I've found that they brown more evenly when baked in a convection oven, but if you bake them by convection definitely turn the heat down to 375.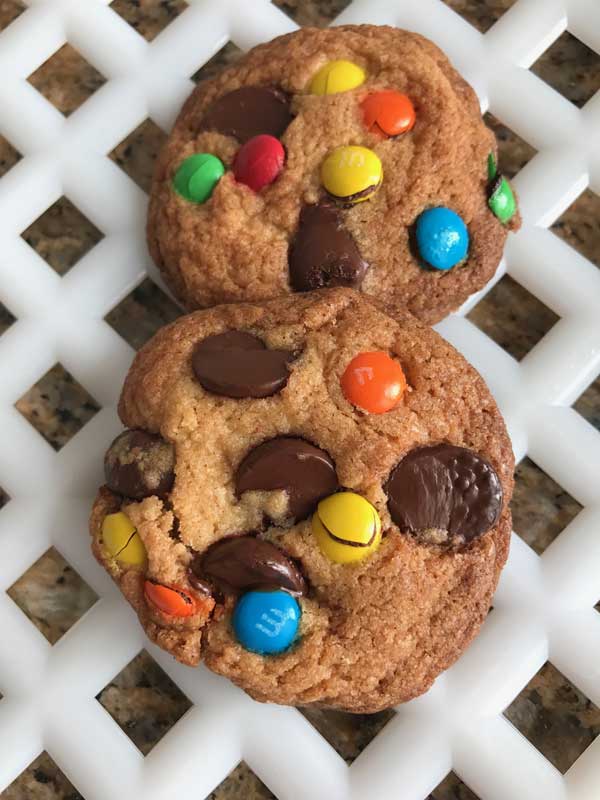 Recipe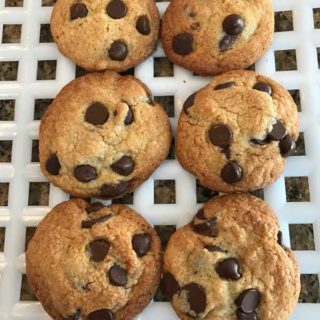 Rosie's Bakery Crunchy Chocolate Chip Cookies
Crunchy Chocolate Chip Cookies adapted from Rosie's Bakery cookbook. The original recipe calls for baking at 400 degrees. I prefer to get the oven very hot, then reduce the temperature and bake the cookies until they are done.
Ingredients 
1 ¾

cups

all-purpose flour

220 grams

¼

teaspoon

baking soda

¼

teaspoon

baking powder

½

teaspoon

salt

13

tablespoons

185 grams unsalted butter at room temperature

½

cup

plus 2 ½ tablespoons

lightly packed light brown sugar (130 grams)

5

tablespoons

granulated sugar

65 grams

1 ½

teaspoons

pure vanilla extract

1

whole large egg

50 grams

½

large egg yolk

9 grams

4

ounces

¾ cup semisweet chocolate chips
Instructions 
Preheat oven to 400 and line two baking sheets with parchment paper or foil.

Sift or just thoroughly mix together the flour, baking soda, baking powder, and salt.

In a mixing bowl, using an electric mixer, beat the softened butter, both sugars, and the vanilla until creamy. Add the egg and half a yolk and beat on medium speed until they are blended, about 30 seconds. Scrape the bowl.

By hand or using the lowest speed of the mixer, stir in the flour mixture. When fully blended, add chocolate chips.

Drop the dough by heaping teaspoons about 2 inches apart on baking sheets.

Put the cookies in the oven and immediately reduce heat to 375 degrees F. Bake for 10 minutes or until cookies appear set -- edges should be browned and centers will be set.

Let cool on baking sheets for about 5 minutes, then remove and let cool completely.

To keep the cookies crunchy, keep them in a heavy duty freeze bag in the freezer.
Notes
These cookies will be crunchy if you follow the directions and keep them around 2 teaspoons (about 15 grams each) per cookie. Instead of baking them right away, I like to portion out about 48 scoops of dough, chill them thoroughly, put them in a zipper bag and bake when needed.