The recipe for Salted Oatmeal Cookies is actually from Cook's Illustrated, but I found it years ago on Smitten Kitchen where Deb added white chocolate.  Obviously, that was a brilliant idea.  However, over the years I have found these to be among the best oatmeal cookies with or without the white chocolate.
Cook's Illustrated uses 5 oz flour per cup, so keep that in mind if you weigh your ingredients like I do. If you're a scooper, proceed as usual.
Use the best salt you have for finishing, but if all you have is kosher salt, go ahead and use it. I used fancy, expensive salt and while the cookies were phenomenal, I am certain they would still be excellent when finished with regular (preferably Kosher) salt. It's the salty white chocolate butter combo that makes these cookies so good and the crispy, delicate texture that makes these cookies so good, so give them a try.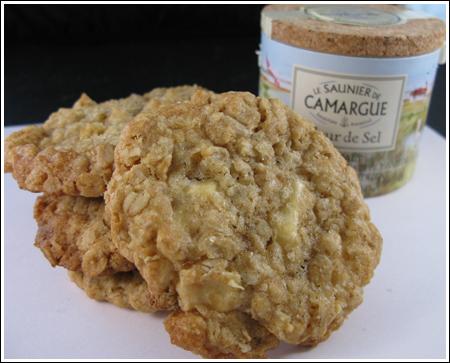 Recipe
Salted Oatmeal Cookies
Adapted from Cook's Illustrated
Ingredients 
1

cup

all-purpose flour

(140 grams)

¾

teaspoon

baking powder

½

teaspoon

baking soda

¼

teaspoon

table salt

14

tablespoons

unsalted butter, softened but still cool

1

cup

sugar

(200 grams)

¼

cup

packed light brown sugar

(50 grams)

1

large egg

1

teaspoon

vanilla extract

2 ½

cups

old-fashioned rolled oats

½

teapoon flaky sea salt
Instructions 
Preheat oven to 350 degrees. Line baking sheet with parchment paper. Whisk flour, baking powder, baking soda, and salt in a medium bowl.

Beat butter and sugars until light and fluffy. Scrape down bowl with rubber spatula, then add egg and vanilla and beat until incorporated. Scrape down bowl again. Add flour mixture gradually and mix until just incorporated and smooth. Gradually add oats and mix until well incorporated.

Divide dough into 24 equal portions, each about 2 tablespoons. Arrange on two baking sheets, spacing about 2 ½ inches apart, then press down slightly. Alternatively, you can divide and shape the dough, but put the unbaked dough portions on a plate and cover with plastic wrap. Chill for 2 hours until ready to bake.

Sprinkle a flake or two of sea salt on each cookie

Bake 13 to 16 minutes, rotating baking sheet halfway through if needed. Let cool for about 5 minutes, then carefully transfer cookies to a cooling rack.
Notes
Adding white chocolate to these cookies is optional.