This is a list I've made for early summer 2008 top recipes aka a top ten list.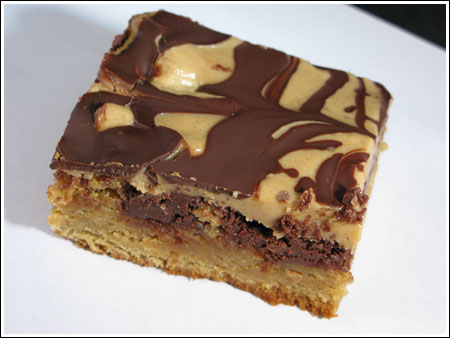 Smitten Kitchen's Oatmeal Cookies go on the list – Great crispy texture and delicious flavor of white chocolate, salt and butter.
Coconut-Oatmeal Bars with Chocolate Chips from Food 2.0 – All-around good recipe. Easy to make and wholesome. Amenable to changes such as oil for butter, sweetened coconut for unsweetened, etc. See comments.
Marbled Peanut Butter Brownies – Pretty and delicious. Don't skip this recipe if you like peanut butter and chocolate.
Val's Mexican Chocolate Crunch Brownies – Easy and unique.
Ginger-Toffee Cookies – One of the best ginger cookies out there. Toffee chunks are surprisingly good.
Thick and Crunchy Cookies with Corn Flakes – I really liked these. They may not be everybody's favorite, but I found them satisfying, crunchy and just plain good. Plus, they're easy and serve a lot of people. They also hold up well.
Fudge Brownies with Golden Syrup – Not too cakey, not too dense. Good for bake-sales or wrapping and giving to friends.
Pineapple Cheesecake Squares – These really surprised me. I wasn't expecting much and putting dried pineapple in cheesecake sounded strange, but the bars were excellent and I've received plenty of emails from people who agree.
Red Wine Chocolate Cherry Cookies -- My friends really loved these and so did I. The judges on the Ultimate Recipe Showdown didn't pick them as winners, but don't think about that and just make them anyway. Add some extra chocolate chunks if you need to.