Fuzz is at camp today. Last week it was Girl Scout camp and this week it's YMCA. Next week, it will be a half day drama camp and then the next few weeks after that – Camp Mom. Hopefully, she won't get too bored. I try to plan interesting activities, but Fuzz has a strong need to be with kids her own age and gets kind of lonely. My plan is to bombard her with camps for the first month so that by July she will be happy to just hang out with me….and a maybe a play date.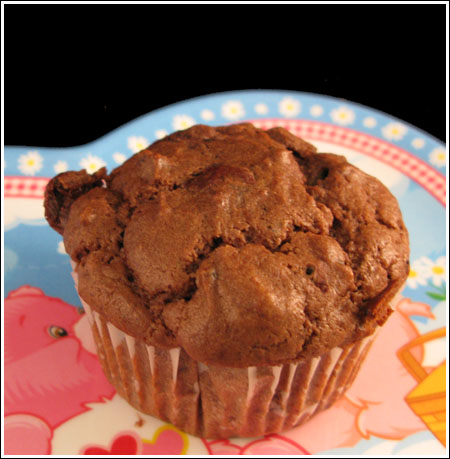 YMCA camp, which is held at a local elementary school, turned out to be more fun than we expected. The kids are on a structured schedule with field trips and plenty of swimming. Best of all, Fuzz gets to be with two of her best Kindergarten friends and one little girl she played with in Pre-K. Still, I think she is probably tiring of all the camps. It will be good to have her home next week.
Today, I decided to bake Fuzz a batch of muffins. She's starting to like them more and more, so long as they don't have chunks of fruit or nuts. Something tells me she won't mind chunks of chocolate!
This is modified from a recipe being passed from Yahoo group to Yahoo group. It can be made with plain yogurt (as per the original) or vanilla, which is what I used. The muffins are pretty large and have a nice dome shape. But what I really like about them is that they are not glorified cupcakes. These really have the taste and texture of muffins.
Double Chocolate Yogurt Muffins
3/4 packed cup light brown sugar
1/2 cup melted unsalted butter
1 cup vanilla flavored or plain (I used vanilla) yogurt
1 large egg
1 1/2 tsp vanilla extract
1 3/4 cup all purpose flour, stir and aerate before measuring
1/3 cup unsweetened cocoa powder
1/2 tsp. salt
1 1/2 tsp baking powder
1 cup semi-sweet chocolate or bittersweet chips
Preheat oven to 350 degrees F. Line a muffin tin with paper muffin cups.
Stir brown sugar and butter together in a medium size bowl. Add yogurt, egg and vanilla and stir until thoroughly blended.
Combine flour, cocoa, salt and baking powder in a large mixing bowl. Add yogurt mixture to flour mixture, stirring only until blended. Fold in chocolate chips. Spoon batter into greased muffin tins and bake for 22-25 minutes.
Makes 12