Hey Muggles! We're going to Harry Potter tonight! Let me tell you, I am really looking forward to it. In fact, I'm excited about being excited because I don't anticipate new movies like I used to and it feels good to have high hopes for something. JK Rowling has never let me down.
Given the good mood, I decided to make Fuzz chocolate chunk muffins for breakfast. Like Harry Potter, I had really high hopes for the muffins because the recipe was from Dorie Greenspan who might be considered the JK Rowling of baking….or maybe not. Maybe that would be Maida Heatter or Flo Braker or oh, you get the point.
The muffins were good. If I'd read the Epicurious reviews before diving into the recipe, I would have known they were less-sweet than most and maybe better in that with less sugar, they're more like muffins than just cupcakes in disguise. I did add a little extra sugar in the form of a cinnamon-sugar topping (but only a pinch), threw in some extra chocolate chips (good call), used yogurt in place of the buttermilk (why not?) and added espresso powder, but I think the essence of the original muffin is still there. I re-typed it with changes and weights, and here's the link to the original.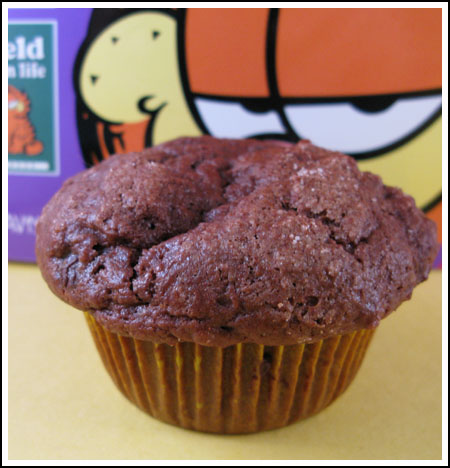 Double Chocolate Chunk Muffins
6 tablespoons unsalted butter
2 oz semi-sweet chocolate, cut
2 cups all purpose flour (270 grams) – spoon and sweep if no scale
1 tablespoon baking powder (15 ml)
1/2 teaspoon baking soda (2 ml)
1/2 tsp salt (2 ml)
1 teaspoon espresso powder (optional)
2/3 cup granulated sugar (140 grams)
1/3 cup unsweetened natural cocoa powder (28 grams)
1 ¼ cups yogurt or buttermilk (I used yogurt)
1 large egg
1 tsp vanilla extract (5 ml)
1/2 cup semi-sweet chocolate chips or more chopped chocolate (handful)
1 teaspoon cinnamon sugar
Heat oven to 375 degrees. Line 12 muffin cups with paper liners
Melt butter and chocolate together in a microwave-safe bowl.
Mix the flour, baking powder, baking soda, salt, espresso powder, sugar and cocoa powder together in a large bowl. Make sure they're thoroughly mixed.
Mix the buttermilk (or yogurt), egg and vanilla together in another bowl; add yogurt mixture and melted chocolate/butter mixture to the flour mixture. Stir until just until ingredients are mixed, but don't over-mix the batter or attempt to remove lumps.
Stir in the chocolate chips. Divide batter evenly among the 12 muffin cups and sprinkle tops lightly with cinnamon sugar.
Bake on center rack for about 20 minutes. — Makes 12!