Since posting the Double Chocolate Chunk Muffins recipe in 2009, I've made it maybe six times. The muffins are good — not too sweet and definitely muffins rather than cupcakes. You can read the reviews on
Epicurious.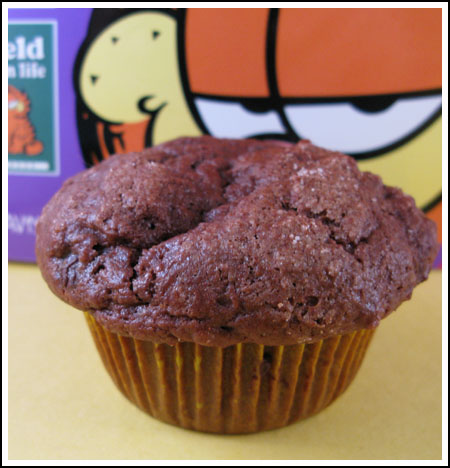 Double Chocolate Chunk Muffins
6 tablespoons unsalted butter
2 oz semisweet chocolate, chopped
2 cups all purpose flour (270 grams) – spoon and sweep if no scale
1 tablespoon baking powder (15 ml)
1/2 teaspoon baking soda (2 ml)
1/2 tsp salt (2 ml)
1 teaspoon espresso powder (optional)
2/3 cup granulated sugar (140 grams) OR use half granulated and half brown
1/3 cup unsweetened natural cocoa powder (28 grams), sifted
1 1/4 cups yogurt or buttermilk
1 large egg
1 tsp vanilla extract (5 ml)
1/2 cup semisweet chocolate chips or chocolate chunks (handful)
1 teaspoon cinnamon sugar
Heat oven to 375 degrees. Line 12 muffin cups with paper liners
Melt butter and chocolate together in a microwave-safe bowl.
Mix the flour, baking powder, baking soda, salt, espresso powder, sugar and cocoa powder together in a large bowl. Make sure they're thoroughly mixed.
Mix the buttermilk (or yogurt), egg and vanilla together in another bowl; add yogurt mixture and melted chocolate/butter mixture to the flour mixture. Stir until just until ingredients are mixed, but don't over-mix the batter or attempt to remove lumps.
Stir in the chocolate chips. Divide batter evenly among the 12 muffin cups and sprinkle tops lightly with cinnamon sugar.
Bake on center rack for about 20 minutes. — Makes 12!