I like trying all kinds of chocolate chip cookie recipes, but when I'm having an extreme chocolate chip cookie craving, only one recipe will do – Best Ever Chocolate Chip Cookies from Wellesley Cookie Exchange. Aside from their appearance, which in my opinion is nothing to write home about, they really live up to their name.
Buttery Chocolate Chip Cookies and Cornstarch
These are thin and buttery chocolate chip cookies, and if you bake them on a non-insulated cookie sheet, they will usually come out crispy. But be warned. Because of high proportion of butter and sugar, you have to watch them carefully to achieve crispy edged cookies that do not have burnt bottoms. I've over-baked the cookies on more than one occasion, so yesterday I decided to add some cornstarch to see if it might help make the edges crispy without extra bake-time. The end results were exactly what I was hoping for.
Like I said, they're not very pretty, but if you like thin, rich, buttery chocolate chip cookies with crisp edges, you have to try this version.
UPDATE: I've baked a lot of these cookies in the past few weeks and have decided that it's better to use a 350 degree F oven. So the temp has been changed.  If you like very brown edges and soft centers, stick with 375.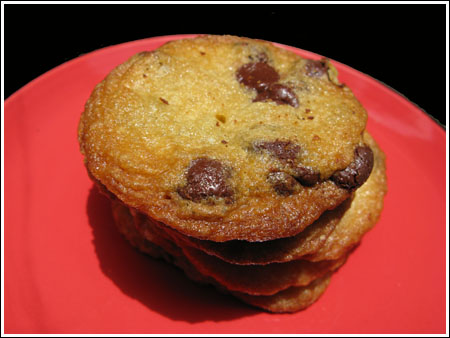 One Bowl Thin & Buttery Chocolate Chip Cookies
One Bowl Thin & Buttery Chocolate Chip Cookies
Ingredients 
8

tablespoons

unsalted butter, room temperature

(114 grams)

1/2

cup

light brown sugar, packed

(100 grams)

6

tablespoons

granulated sugar

(75 grams)

1

teaspoon

vanilla

5 ml

1

large egg

1/2

teaspoon

salt

1/2

teaspoon

baking soda

1

tablespoon

cornstarch

15 ml

1

cup

flour

4.75 to 5 oz oz – (135-140 grams) — scooped

1 1/2

cups

semisweet chocolate chips

270 grams – can use more or less
Instructions 
Preheat oven to 350 degrees F (190 C) and have ready an ungreased cookie sheet.

Beat the butter, both types sugars, and vanilla together in a medium bowl, using an electric mixer. When creamy, beat in the egg. When egg is well blended, add salt and baking soda and beat well, scraping sides of bowl once or twice and making sure baking soda is well distributed throughout batter. Add cornstarch and stir until blended. Add flour and stir until it is almost blended in. Add the chocolate chips and stir until all flour disappears.

Drop dough by rounded teaspoonfuls onto the ungreased cookie sheets. Bake one sheet at a time on center rack for 10 minutes or until edges are golden brown. The cookies should get very brown around the edges, but do take care not to burn the bottoms.