Four Layer Meringue Berry Dessert is from Pat, who linked to it in the comment section. Pat was sorry Cook's Recipes didn't include pictures, but promised me it was a good dessert. As to its name, it has four layers. The first layer is a crumbly crust made of vanilla wafers. The second layer is a thick pile of meringue, the third layer is fresh sweetened whipped cream and the last layer is mixed berries. As a bonus, it's made in an 8 inch square glass pan and perfect for small groups. If you like it, you can double it and use a 13x9 inch pan.
Here's the recipe as I made it. What's great is, the base and meringue can be cooked head of time and topped with cream and berries at serving time.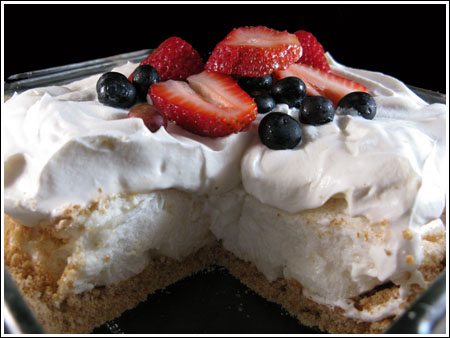 Four Layer Meringue Berry Dessert
Butter for greasing dish
1 ½ cups Nilla Wafer crumbs, regular or reduced fat
4 tablespoons butter (regular salted type), melted
4 egg whites, room temperature -- large
½ cup granulated sugar
½ teaspoon vanilla
Pinch salt
1 cup heavy whipping cream
1 ½ tablespoons granulated sugar
½ teaspoon vanilla extract
1 pint assorted berries, sweetened to taste with sugar
Preheat oven to 350 degrees F. Rub bottom and sides of an 8 inch square baking dish with butter.
Stir together Nilla Wafer crumbs and melted butter. Press this mixture into bottom and slightly up sides of the greased dish.
Beat egg whites with an electric mixer until soft peaks begin to form. Slowly add the ½ cup sugar to the egg whites. When whites are stiff, beat in the vanilla and pinch of salt. Spread egg white mixture over crust, doing your best not to let it touch sides of pan.
Bake crust & egg white mixture for 16-18 minutes or until top is golden brown. Let cool on a wire rack until ready to serve.
Whip the cream until stiff peaks form. Beat in sugar and vanilla. Spread over cooled meringue. Arrange berries on top.
Serves 4-6 people
Note: the meringue is chewy and soft and billowy in the center. If you like chewier, thicker meringue, you could probably dry it out a little more in the oven by letting it sit with the heat off for 30 minutes. I might try making it with an Italian meringue or the no-weep meringue I used on my last lemon pie.