The second cookie of the day (which I made while the bars were baking) is adapted from Bon Appetit where it goes by the name of No-Fail Chocolate Chippers. I made a half batch and think the cookies taste much more like oatmeal cookies than chocolate chip, but they are still very good. People on Epicurious thought so too.
I used a bit more chocolate than called for and would do that again! These cookies don't have a ton of butter so I think it would be pretty easy to convert them to vegan. You could use shortening instead of butter and maybe an egg replier (N-rgy) for the egg. A quarter cup of applesauce might work as an egg replacer too. Hmmmmm. Now I suddenly want to try the vegan version.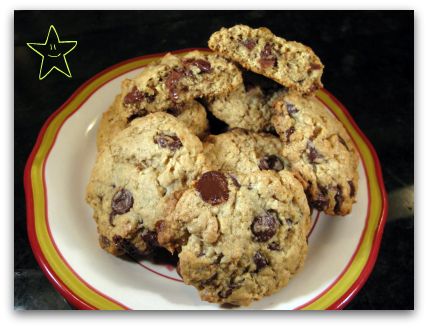 Chocolate Oat Chippers
1 cup old-fashioned rolled oats
3/4 cup plus 2 tablespoons all purpose flour
1/2 teaspoon baking soda
1/4 teaspoon salt
1/4 cup (1/2 stick) butter, room temperature
1/2 cup (packed) golden brown sugar
1/4 cup granulated sugar
1 large egg
1/2 teaspoon vanilla extract
1/2 cup chopped, toasted walnuts
4 oz milk chocolate, chopped into chunks
3 oz semi-sweet chocolate chips
Preheat oven to 375°F.
Grind oats in processor. Add flour, baking soda and salt and pulse to mix.
Cream butter and both sugars in a medium bowl. Beat in egg and vanilla. Add flour mixture and stir until blended. Stir in walnuts and both types of chocolate.
Using about 2 tablespoons of dough, form dough into balls and place on ungreased baking sheet. Flatten slightly. Bake until edges are golden brown, about 12 minutes. Cool on sheets 5 minutes. Transfer to racks; cool completely.
Makes about 15 cookies