Sunset's old recipe for Chocolate Chip Cookies at their Best is one of my favorites, but it took me a few tries to get it right. The cookies are supposed to be medium thickness, kind of nutty, chewy and grainy, and mine kept coming out thinner and sort of floppy. I think it's because the original recipe didn't have gram measurements and I was using too light a hand with the flour. And I also suspect the original version was tested with a higher protein AP flour.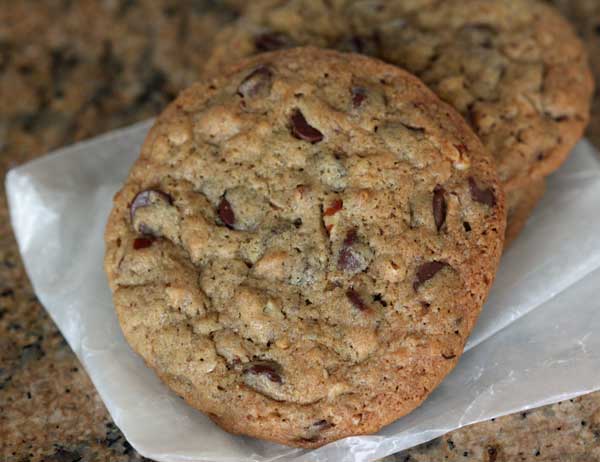 Since posting this I've made the recipe a number of times and have found that using a heavier hand than I usually do with the flour (5 oz weight per cup rather than 4.5 oz per cup) gives better results. And it also probably helps to use King Arthur flour, which is a little higher in protein. I don't know, but now my cookies look more like the ones in the old Sunset book.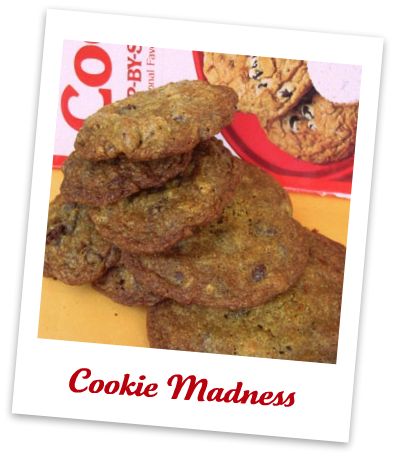 Chocolate Chip Cookies at Their Best
1/2 cup (4 oz/114 grams) butter, slightly cool (unsalted)
1/4 cup shortening (48 grams)
2/3 cup granulated sugar (130 grams)
1/2 cup packed light brown sugar (100 grams)
2 large eggs
1 1/2 teaspoons vanilla extract
1/2 teaspoon lemon juice
1 1/2 cups all purpose flour (7 1/2 oz by weight or 210 grams)
1 teaspoon baking soda
3/4 teaspoon salt
1/2 teaspoon cinnamon (optional)
1/4 cup oats
12 oz semi-sweet chocolate chips
1 cup chopped, toasted, walnuts or pecans
Preheat oven to 350 degrees F. Line a couple of cookie sheets with parchment paper.
Beat butter, shortening and both sugars with an electric mixer until very lightly and fluffy – Sunset recommends up to 5 minutes. Add eggs, one at a time, beating well after each addition. Beat in vanilla and lemon juice.
Stir flour, baking soda, salt, cinnamon (if using), and oats together in a separate bowl. Stir flour mixture into sugar mixture. When well combined, stir in the chocolate chips and walnuts.
Use a scant ¼ cup of dough for each cookie. Drop dough onto cookie sheets, spacing about 3 inches between each cookie, and bake at 350 degrees F. for 16-18 minutes OR, for softer cookies, bake at 325 degrees F. for 17 to 19 minutes.
I always use the 350 degree temp.
Makes about 18 cookies