Today's cookies weren't very attractive. I followed the recipe in the Sunset Cookies Step-by-Step book, but mine turned out darker and thinner than the cookies on the cover and just not very pretty.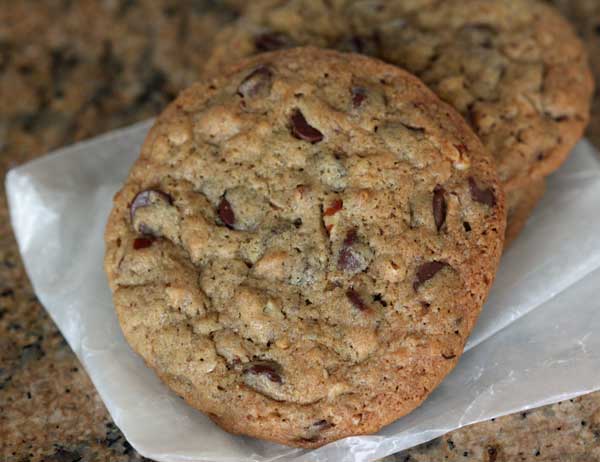 I'm posting the recipe anyway because unattractiveness aside, these cookies are delicious. Also, I used the aforementioned brown sugar substitute (molasses mixed with granulated) instead of actual firmly packed brown sugar, so maybe that had something to do with it. I'll be curious to see if your cookies look more like the sturdy and handsome cookies pictured on the front of the book. You can see a little bit of them in my photo or click here, to see a picture of the book cover. Good luck!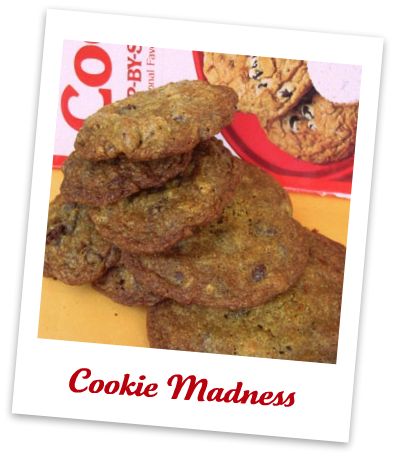 Update: Since posting this I've made the recipe a number of times and have found that using a heavier hand than I usually do with the flour (5 oz weight per cup rather than 4.5 oz per cup) gave me better results. Now my cookies look like the ones in the first photo.
Chocolate Chip Cookies at Their (Relatively Speaking) Best (from Sunset)
1/2 cup (4 oz) butter, softened (unsalted)
1/4 cup shortening
2/3 cup granulated sugar
1/2 cup packed light brown sugar
2 large eggs
1 1/2 teaspoons vanilla extract
1/2 teaspoon lemon juice
1 1/2 cups all purpose flour (7 1/2 oz by weight)
1 teaspoon baking soda
3/4 teaspoon salt
1/2 teaspoon cinnamon (optional)
1/4 cup oats
12 oz semi-sweet chocolate chips
1 cup chopped, toasted, walnuts
Preheat oven to 350 degrees F. Line a couple of cookie sheets with parchment paper.
Beat butter, shortening and both sugars with an electric mixer until very lightly and fluffy – Sunset recommends up to 5 minutes. Add eggs, one at a time, beating well after each addition. Beat in vanilla and lemon juice.
Stir flour, baking soda, salt, cinnamon (if using), and oats together in a separate bowl. Stir flour mixture into sugar mixture. When well combined, stir in the chocolate chips and walnuts.
Use a scant ¼ cup of dough for each cookie. Drop dough onto cookie sheets, spacing about 3 inches between each cookie, and bake at 350 degrees F. for 16-18 minutes OR, for softer cookies, bake at 325 degrees F. for 17 to 19 minutes.
I always use the 350 degree temp.
Makes about 18 cookies