German Chocolate Cake isn't really German. It gained fame in 1957 after being published as a reader recipe in a Dallas newspaper. In the ingredient list, the reader who submitted the recipe specified "German's Sweet Chocolate" which was a sweet chocolate formulated by a man named Samuel German who worked for the Walter Baker Chocolate Company. So the cake is actually named for the brand of chocolate used to make it.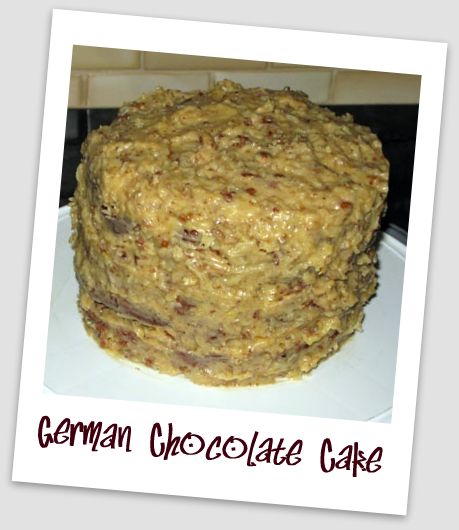 How German Chocolate Cake Became Famous
As Jean Anderson points out in The American Century Cookbook, German's brand chocolate had been selling just fine for the past 105 years prior to the cake recipe, but when the cake recipe was printed in paper, there was a spike in German's chocolate sales in Dallas. General Foods traced the sales to that reader recipe. They were so impressed that a district manager asked the food editor at the Dallas paper to send the recipe to other food editors around the country. When it started appearing in newspapers, editors began receiving letters from readers saying the cake recipe was similar to one their mother made or one they'd lost. So it existed before it was printed, just under a different name. Given its new popularity, General Foods refined the recipe, added Angel Flake Coconut, and re-named it German Sweet Chocolate Cake.
Lady Bird Johnson's Recipe
So that's the story of German Chocolate Cake. As someone who grew up in Texas, I can tell you it's a cake that appeared on my grandmother's table during almost every visit. You could find it at good bakeries, and someone would almost always bring German Chocolate Cake to a potluck There were different recipes, but most are just variations on the one that appeared in the Dallas paper. One that stands out and which I like is Lady Bird Johnson's recipe.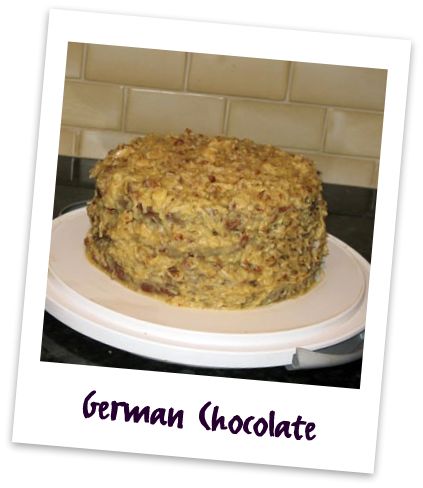 Lady Bird Johnson's German Chocolate Cake
½ cup water
4 oz. German Chocolate (Baker's Brand), cut up
1 tablespoon natural cocoa powder (my addition)
2 ½ cups cake flour, sifted (10 oz)
1 tsp. baking soda
¾ teaspoon salt -- if using salted butter or margarine, omit or reduce to pinch
1 cup unsalted butter (2 sticks)
2 cups granulated sugar, use scant cups (385 grams)
4 egg yolks
1 ½ tsp. vanilla
1 cup buttermilk, room temperature
4 large egg whites, stiffly beaten
Directions
Preheat oven to 350 degrees F. Spray three 9-inch round cake pans with flour-added cooking spray and then line with rounds of parchment. This is a tender cake. If you don't line the pans, it may tear.
Bring water to a boil in a microwave-safe glass measuring cup or small saucepan. Add chocolate to water and stir until it melts. Stir in cocoa powder. Set aside to cool.
Sift together cake flour, baking soda and salt. Set aside.
In bowl of a stand mixer, beat butter and sugar until light and fluffy; Beat in yolks, vanilla and melted chocolate mixture. When very well mixed, by hand or using lowest speed of mixer, add flour mixture alternately with buttermilk; When flour is completely absorbed, fold in beaten egg whites.
Divide batter among the three pans and bake at 350 degrees F. for 30 minutes or until they appear set and a wooden skewer inserted in center comes out with moist crumb.s. Let cool on a rack for 10 minutes, then carefully flip from pans. Begin making icing. It's good to start making the icing as soon as possible, as it needs time to chill.
Coconut Pecan Frosting
1 ½ sticks melted butter (6 oz)
12 oz. can evaporated milk
1 ½ cups granulated sugar
4 egg yolks
1 ½ tsp. vanilla
A pinch or two of salt
2 cups flaked sweetened coconut (1 bag of Angel flake)
1 ½ cups chopped pecans (toasted)
Whisk butter, evaporated milk, sugar and egg yolks together in a large saucepan. Turn heat to medium and cook mixture, whisking often, until it thickens. This should take about 10 minutes. When thickened and bubbly, remove from heat and pour into a large mixing bowl. It should look thick, but it will still be too runny to use as frosting at this point. Don't worry, because it will thicken as it cools and will thicken even more as it chills.
Let it cool to room temperature, then stir in the vanilla, salt, pecans and coconut. If you plan on spreading only across the top of the cakes, you can ice the cake now. If you like glopping it onto the sides like I do, it's best to chill the icing a little so it will adhere to the cake better.