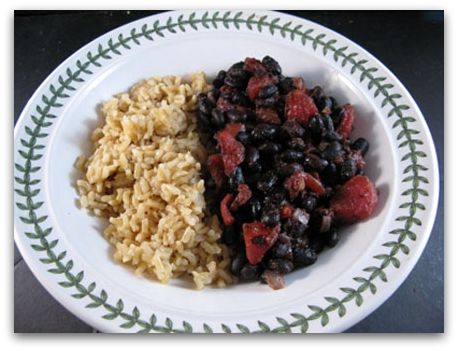 Cuban Style Black Beans & Rice
1 tablespoon (15 ml) olive oil
1 large onion, chopped
4-5 cloves garlic, minced
½ teaspoon (2 ml) chili powder
¾ teaspoon (3 ml) ground cumin
1 can (14.5 ounce) diced tomatoes with their liquid
3 cups (cooked) black beans, drained**
sea salt, to taste
ground pepper, to taste
chopped, fresh cilantro as a garnish, optional
Heat a large skillet or sauté pan over medium high heat. Add olive oil and heat for about 30 seconds. Add the onion and sauté for 2 to 3 minutes. Add garlic, chili powder and cumin. Continue to sauté for 2 more minutes. Reduce heat to low, add diced tomatoes and simmer, uncovered, 15 minutes. Add beans and simmer 5 minutes longer to heat through. Taste and adjust seasoning with salt and pepper.
Serve beans over pre-made brown or chicken flavored rice with cilantro and if desired, lime wedges.
** To cook black beans, rinse, soak overnight, drain, put in a pot with 6 cups of water (to 1 pound black beans) and simmer with lid half on for 1 ½ to 2 hours. Or just use 2 drained 15 oz cans.